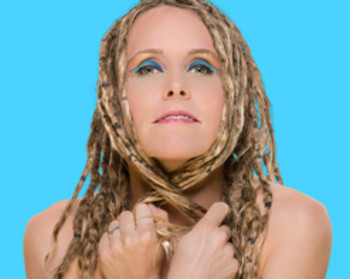 "Airport Coffee" from the upcoming EP SpazKitty. Performed by Adrian Conner. Edited by Adrian Conner. Written by Adrian Conner. Produced by Adrian Conner. Engineered by Adrian Conner. Get the point?
There's a reason why we at HIP Video Promo are so passionate about working with independent artists, and Austin, TX's Adrian Conner is one of the big ones. Adrian first came onto the scene as part of her outfit Adrian & the Sickness, and more recently mesmerized viewers with a trifecta of videos, "Rio Grande," "Deeper Feeling," and "Free Love," with her duo Beaux Cheveux. She also gains a healthy dose of recognition for her roll as lead guitarist in the all-female AC/DC cover band, Hell's Belles. She's even spent time as a music video programmer at Garbage TV in Austin, TX!
For her ninth release, SpazKitty, Conner brought her A-game. With a team of excellent musicians and a newly refined recording skill set using Logic as her weapon, Conner hit the studio with her years of inspiration and ingenuity at her side. The first single from SpazKitty was "Belligerent," a blistering feminist battle cry that hit the good ol' boys club right between the eyes. It was simultaneously topical in the post #MeToo movement and symbolic of the fight that Adrian has been fighting for many years.
The single, "Airport Coffee," finds Adrian fighting another battle for the common man and woman; corporate greed. "Doesn't matter what side you're on, they both sold us out" and "Over the years the one percent got the joke" and "You pay the tax while they skip out" are sobering, scathing observations of the financial world we're all forced to navigate on someone else's terms. Adrian reminds the audience that like that yucky, burnt airport coffee, we just keep buying it up and drinking it down.