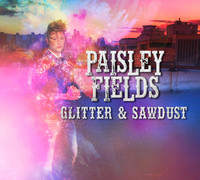 Queer country music.  Let the barbecue sauce of that phrase marinate for a minute. Think about how it tastes, how it feels.  Does it surprise you? Inspire you? Upset you, confuse you, excite you?
After listening to "Glitter and Sawdust", new album from queer country band Paisley Fields, I've got good news for you anxious few. Apparently, queer country is a lot like the good 'ol, red-blooded stuff.  Even the same jokes apply.  The only difference is that when you play a queer country song backwards, you get your truck back, your dog back, and the loving acceptance of your religious family back.
But seriously folks, Paisley Fields is up to something good here.  "Glitter and Sawdust" is somewhere between brightly-lit Nashville pop and saloon-style honky-tonk. It's got rhinestones in all the right places. It's got the boots, the beer, and the spurs.
Let's start with the boots.  They're dancing. Check out the quick-footed two-step "Keep Swimming" for a haughty, defiant rail against an arrogant ex-lover.  Once you're warmed up by the Jessi Colter-esque impudence,  get to kicking, but be warned, "you can't outrun" the hillbilly romp of "Winchester's Gun". Faith and be jibbers, is that smoke from the rifle or the banjo?
After working up a dancefloor sweat, "I Could be Drinkin'" delivers a cold one. A timeless  ode to the curse of the working class, this track bounces over verses that could have been written by Garth Brooks. "My Wallet is Empty (But My Pint Glass is Full)" is a classic closing-time waltz about last dimes and last calls, another familiar theme to cowpeople of all walks.
Now the spurs are another story.  Sharp and spinning, they're prodding the underbelly of country music stereotypes. Arguably the most important aspect of this album is its fearless address of what it's like to be gay in a culture dominated by Christianity and conservatism.  "Periwinkle" tells the story of childhood secrecy navigating "revealing gender party games".  Meanwhile, "Can't Stop Our Love" is a heartbreaking duet that shows us a father who bites "you're no son of mine… get out of my sight",  and a mother who condemns "You got the devil inside you…I had three children, now I only have two".
I know some of you may be worrying that Paisley Fields may wax overly political, but nothing could be further from the truth.  These are honest country songs first and foremost.  It just happens that the real struggles and heartaches of singer James Wilson sheds a little light on politics.
Speaking of singing, Wilson's voice brings new dimension to the genre.  Far from the tried and true baritones of your Waylons and Merles, Wilson evokes something slightly punk rock.  Imagine Blink 182's Tom Delonge was raised on Hank Williams, and you'll get the idea.
So what the verdict on queer country music?  Well, if the genre follows the example set by Paisley Fields, I gotta be honest, I'm not sure there's a need for the "queer" qualifier.  This is country music.  It's got all the twang and jangle, all the fiddle and banjo, all the personal songwriting on themes of loss and love.  The fact of a queer songwriter adds nuance to certain lyrical elements, but doesn't necessarily transport the sound to a new genre altogether.
It's kind of like Jack White singing "Jolene".  Yeah, it's a man singing to a man, but if you can squash the homophobia, it just sounds like a good, passionate song.  Last I checked, sexual preference has nothing to do with musicianship.
That being said, you may not catch Paisley Fields at the CMA's next year, but give it time.  With more albums like "Glitter and Sawdust", we can look forward to a day where terms "queer" is to "country music" like "fish" is to "bicycle".
Follow Paisley Fields on Twitter @ThePaisleyField