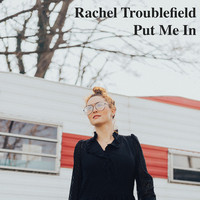 The first impression made by Rachel Troublefield's single "Put Me In" is it sure sounds like John Fogerty's "Centerfield," as reinterpreted by Cyndi Lauper. Although these two artists may seem to be polar-opposites stylistically, these songs have more similarities than you might expect.
Lyrically, both songs spotlight an 'athlete' relegated to the bench. Yet, in each case said player is way overready to play. Fogerty's bench rider is specifically a baseball player, as centerfield is a hardball outfield position. However, Troublefield's pine-attached individual could be playing most any sport.
"If love is a game I've been living on the bench/My whole life I haven't moved one inch," Troublefield complains during the chorus. Similarly, Fogerty begs, "Put me in coach, I'm ready to play today." Fogerty's hit song is also rich in major league baseball history, whereas Troublefield is strictly self-focused, and does not go too deep into its sports analogy.
Troublefield also draws Lauper comparisons for her vocal style. There's a childlike tone in Troublefield's voice that brings Lauper immediately to mind. "Put Me In" is also a bouncy pop song, just like Lauper's huge hit "Girls Just Want to Have Fun." Although Troublefield is crying out for love, lyrically, this girl nevertheless sounds like she just wants to have fun – at least musically. Troublefield was raised in South Carolina, but now lives in Brooklyn. Similarly, Lauper is a New York gal.
Rachel sings with an urgent, enthusiastic tone, over a hand-clapping, keyboard-rich arrangement. The chorus combines a woo-hoo-hoo backing vocal, which is combined with its sung part. There's a joyousness to Troublefield's performance, which contrasts with her desperate lyrical focus. It doesn't seem as though she lacks confidence when it comes to love and romance. Rather, her trouble is more akin to courage, much like the Cowardly Lion in Wizard of Oz (although not nearly as crippling). It's courage-dearth closer to someone that loves to swim but doesn't want to jump right into the pool knowing that – at first – the water will be chilly.
The song begins with the protagonist having her eye on one guy. She's has her gaze on him, and she believes he has his focus on her. There's suggested hope that these two share an attraction to each other. It's a mating game, if you will, although we only see the match from the female's point of view. Although it's usually customary for the male to make the first move, one gets the feeling the protagonist cannot wait for him to play his hand. She senses they're a good match – perhaps sensed from first site – and doesn't want to wait for him to initiate contact.
"Put Me In" is sure to be embraced by shy and hesitant wallflowers everywhere. Even with the bolder ones, who hasn't found themselves in that twilight where they weren't sure what the other person thought of them? Nobody wants to make the first advance and then be wrong. Nothing could be more embarrassing than that. However, Troublefield also expresses a more generalized desire with these words. Yes, she's cautious to link up with this new guy, but she admits to always feeling and acting in this overly patient manner. She's hoping to become a much more assertive romanticist.
Rachel Troublefield's "Put Me In" offers a fun tune about the mating ritual that will be relatable for everybody.
http://racheltroublefield.com/
-Dan MacIntosh