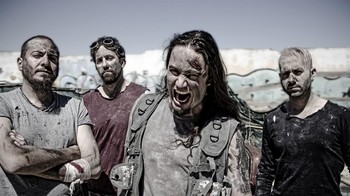 In Vain came up from the musical concerns of a group of friends at Madrid, Spain. At the beginning, they played their favourite bands' songs (Iron Maiden, Running Wild, Helloween…), but the next logical step in its evolution was to compose their own songs. Always working to get further, they recorded in 2009 their debut album entitled 'Of Gods And Men', where classic metal fuses with the 90s power metal and the more melodic thrash of Megadeth's school.
In
 2017 "IV" is to be released, the most powerful and stunning album from the band. The best production ever reached 
in
 their career and the best songs they've ever made, make an album every fan of speed and powerful german power metal will love for sure.
Now you can watch the new video for 'The Void Inside', song included in the fourth album of the spanish heavy metal band In Vain, 'IV', available now.