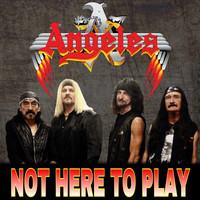 Angeles goes for a wild, careening classic rock style with the powerful rush of "Not Here to Play". Deserving to be blasted at the highest possible volume, the song stuns with its rollicking rhythms. Featuring driving colossal grooves, the whole thing moves forward at a breakneck speed. Guitars scream up into the sky with a feral quality, making sure that they truly embody an animal instinct. The many elements work in unison to create a virtual stream of consciousness sort of approach, one where the lyrics focus on the joy that life can bring. By far the heart and soul of the entire song comes from the intense vocals that help to tie everything together as they are delivered with a commanding presence.
https://store.cdbaby.com/cd/angeles5
Not a moment is wasted for the piece starts up on a pitch perfect note. Buildup happens immediately for the way the chorus adds to the overall communal presence of the track feels particularly fine. Allowing for a great, almost neon-hued sort of style, means the whole piece passes by in a big beautiful blur. The way that the song evolves adds to its carefully crafted image of an unbridled force of nature. For the latter third of the track things truly let loose as the solos add to the true bliss of the piece. Drums neatly bring things to a close in a most majestic way.
On "Not Here to Play" Angeles delves into a playful, joyous celebration of rock n' roll's unruly spirit.
Site – https://bongoboyrecords.com/angeles/
By Beach Sloth