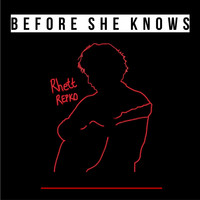 Finally, we have an up-and-coming artist of Today that truly wants to bring back studio magic!  When I think of masterful sessions and legendary studios, I first think of the original Sun Records recordings with Elvis Presley, Roy Orbison, Jerry Lee Lewis, Carl Perkins, Johnny Cash and many others who helped shape & define the quintessential rock 'n' roll sound.  I would also think of the Beatles records produced by George Martin or the "Wall of Sound" created by Phil Spector and one can't forget the swampy, magical moments caught on wax at Muscle Shoals.  All monumental sounds throughout history due to inventive minds making innovative music and Rhett Repko is giving it his best shot by sticking with this formula on "Before She Knows"
You have Rhett Repko on vocals/guitar, Andy Reed on drums and Stefan Heuer on lead guitar & backup vocals. Rhett looks to give a throwback sensation while also keeping it modern as he and his band deliver a timeless sound that is also fresh & tapped in.  With countless hours spent in the lab, Rhett & company tirelessly put together a song that has many, intricate layers.  Relentless at perfecting studio elements, Rhett and his band didn't quit until they had it just right and before you know it you have a professional-sounding tune that packs a punch.  "Before She Knows" is a high-quality recording session due to the rich dynamics and distinct intricacies all placed systematically throughout the track.  Attention to detail is huge here and noticeable as Rhett Repko takes you on an audible excursion through peaks and valleys.   It's also worth mentioning that it's not all super serious and strict mode for Rhett because he proved you can have some fun & games too.  With catchy Pop/Rock melodies & hooks, Rhett and his solid backup band are turning frowns upside down on "Before She Knows".
Rhett Repko gives you something to be proud of and appreciated and something that is most certainly worth a listen or two.  "Before She Knows" is going back to the basics of brainstorming brilliance in the studio to just making a song that connects with listeners and their tastes.  With many accolades under Rhett's belt already, I can't wait to hear how loose or tight the notes will get as time marches on.  But for now, buckle up and soak up Rhett Repko's studio creation, "Before She Knows", that is sure to rejuvenate the musical palette.
By Jimmy Rae