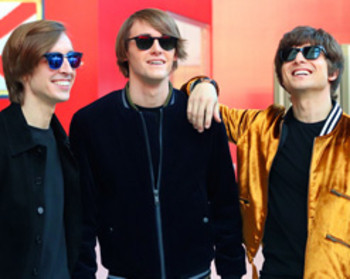 In an era when mainstream culture is dominated by the electronic tendencies of modern pop, hip-hop and dance music, the question often arises: is rock dead? Armed with the sweet psychedelic sounds of the 60s, New York, NY's Acting Natural reminds us that rock n' roll is on the brink of a second coming in the 21st century. Their wonderfully crafted new love song "Nicole" is affirmation that the band is taking the liberty to wield the flag and carry the torch at the forefront of the budding renaissance of Rock and Roll.
Bound by their mutual love for raw and real musicianship, Acting Natural is comprised of lead singer/guitarist Eric Carnevale, bassist/vocalist James David Maney, and drummer/vocalist Jesse Leanoard. The trio's influences span across decades of rock music including the likes of The Rolling Stones, Led Zeppelin, Red Hot Chili Peppers, and of course, The Beatles, whose influence shines through on tracks like "Nicole", thanks to the dream-like breaks and a trait that is signature to the AN sound: sprawling three-part harmonies. And the stunning resemblance that Carnevale has to John Lennon circa 1966 is impossible to overlook!
http://www.actingnaturalmusic.com/blog/
Being that the group started their journey at the age of 13, there is no room for rock-star attitudes in Acting Natural's bond, just pure and honest songwriting. "Nicole" comes as a single off the band's self-titled EP, which was released in 2017, an introductory year that launched Acting Natural into the stratosphere. Having garnered the support of radio giant iHeartMedia, the three-piece released a series of 'Live Sessions' videos of their performance at iHeartRadio HQ in Manhattan. After presenting an award at the iHeartRadio Music Festival in Las Vegas, they were invited to join the Jingle Ball tour, putting the band on stages all across America.