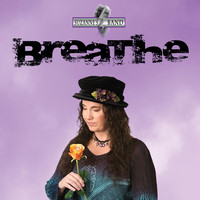 Using carefully arranged acoustic guitars and brooding harmonies, the Texas branded Suzanne's Band creates a charming set of songs on the new extended play, Breathe, which is available now on Amazon.com. Suzanne's Band is the official vehicle for Houstonian singer/songwriter Mia Suzanne Walker, and Walker is nothing short of a blinding force of positive energy in her debut offering. Using a folky template, she touches on themes ranging from vulnerability in the title track, to inspirational and cathartic on the rich "Down in Mexico," a song that will definitely leave listeners itching to grab a set of car keys and cruise south of the border for a while. While there isn't a lot of whimsy here, Walker never leaves us feeling depressed on Breathe, but instead moved by the depth of her emotional reach and relatability.
URL: https://suzannesband.hearnow.com/
Texas has been known for producing some of the American songbook's most pragmatic and influential contributors, and not just in the scope of country music, either. Suzanne's Band could definitely appeal to country fans with all of its exquisite pastoral sensibilities, but if there is a distinct virtue that sets Walker's style so far apart from the Nashville sound, it's her humbleness. Walker doesn't pretentiously croon through every predictable subject in the modern country repertoire, i.e. cheating spouses, drunken retrospectives and the celebration of having a stubborn attitude. Her songs explore introspective ideals and the importance of self-worth, and her delivery is equally refreshing as it is aesthetically pleasant to listen to. In a culture that seems to reward apathetic songwriters with fame, critical praise and financial success, there needs to be more spotlight given to bucolic poets like Walker.
My favorite song on the EP was probably "Losing You," which comes drifting out of the woodwork like a soft smoke and lingers with us after just a single listen. The lyric "This is goodbye for me," feels so real when Walker sings it that one can't help but reflect on their own loves now lost. She continues, "Love sang its song for me, then things went wrong for me," as if to illustrate a scene of two people falling for each other only to drift apart like the smoky bassline that started the track. The passionate yearning is matched evenly with the eponymous "Breathe," which offers some shelter from the stormy lives we create for ourselves in its honest verses.
One thing that is impossible to ignore in Mia Suzanne Walker's Suzanne's Band is its awesome potential to for more output. All of the six songs on her debut extended play offer a variety of tones and colors to explore, and a full length album from this ethereal singer/songwriter would definitely be a high note to ride going into the next decade in popular music. For a taste of what is to come, pick up a copy of Breathe today.
CD BABY: https://store.cdbaby.com/cd/suzannesband
Thomas Patton, III