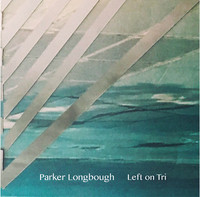 Left On Tri, is Parker Longough's third album, and it finds this Alaskan band in their element. Longbough is the stage name for Matthew Witthoeft, to front the Parker Longbough band with other various members. It follows up the last album, "Bridges To Nowhere" with tracks written around the same time, which makes it a natural progression from it. The album's 9 songs tackle a variety of socio-political subjects in an era calling for advice, without sounding like a lecture. Witthoeft has a natural knack for wise lyrics and a maverick ability to fuse them with the music.
FACEBOOK: https://www.facebook.com/plongbough/
"RNC 2000" gets the album rolling with a track about missing a college reading assignment, and it's chock full of abstract lyrical passages that perfectly describe the atmosphere at the time. The intended lo-fi production adds a lot of drama to it, on top of the already deep lyrics. It's an epic track once you're into it and your head is wrapped around everything about it. But it doesn't exactly prepare you for the next track, the name dropping "Jack Ryan" with some more fantastic lyrics, this time taking some risks the first track doesn't indicate will happen. Lyrics appear to be Matthew Witthoeft's strongest musical attribute.
Another story altogether is found on "The Catcher." This is a story all about millennials taking medication and doing things related to some of the current generation's misunderstood problems. There's a place on every modern album for this subject, regardless of how Parker Longbough choose to write and sing about it. The disc continues on with the depressing but vital "A Left On Tri" carrying on about prescription drugs. It gets to the core of where the album is coming from and shows the songwriting prowess of Matthew Witthoef to be a force to recon with.
More proof of Witthoef's talents are on full display on the next track, "Infinite Zinn." The band also come alive on this track with all the proverbial bells and whistles, but with the signature lo-fi sound they've been forging. The songs continue to change beyond recognition from the next, showing the amount of variety the album has to offer. "Sophia Loren Look-Alike (Acoustic)" sounds like a fantasy date song with yet another celebrity used for the concept, while being a thread maintained throughout the disc. Once again, the lyrics and vocals do the business here.
"Secret Santa" is about the true crime story of Josef f. Boehm, Bambi Tyree, and Bill Allen. Josef Boehm was a millionaire founder of a-  hardware store in Alaska who had a mean streak. This is a sublime track with the best of what Left On Tri comes with, and one of my favorites on the disc. The overall ambience of this song is not only soothing, it's majestic in its own way. There's a potential single here among others which certainly fall into a more pop-sensible category, and less singer/songwriter. This track is one of them, and the last two are not to be missed, especially the final which comes in the shape of "Pizza Party" but it's a surprisingly mellow end to a brilliant album.
Alan Foster