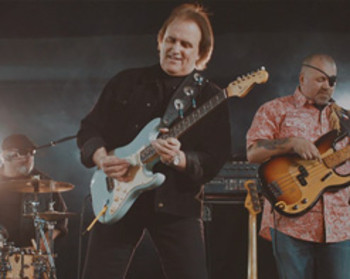 Rocky Athas, known by critics and fans as "The Texas Tornado", "The Malice from Dallas", "The Young Eric Clapton" and "The Last Great Bluesbreaker Guitarist", possesses an arsenal of punishing guitar riffs and catchy hooks that have opened every door.   From recording his first solo album at Willie Nelson's studio with multi-Grammy winning producer, Jim Gaines to working with Buddy Miles and SRV's Double Trouble to Glenn Hughes to Joe Walsh and John Mayall, Rocky has a blues rock pedigree that reads like a Who's Who of musicians.  You might not remember his name, but you will most certainly remember his playing!  With his wonderfully crafted new video for "Dictator,"  Rocky is here to announce his arrival from the international touring stage with The Godfather of British Blues to his rightful place front and center delivering his musical message with Texas style.
At the age of 23, Rocky Athas was one of the first and youngest guitarists to be listed in Buddy Magazine's legendary list of Top Ten Guitarists. The Texas native shares the honor with Eric Johnson, Stevie Ray Vaughan and Billy Gibbons, to name a few, and that was just the start of his career. He spent his time as lead guitarist for nationally touring artists like Jim Dandy and Black Oak Arkansas, racking up writing credits for two of BOA's greatest hits, and is most widely known for his role as former lead guitar player for the "Godfather of British Blues", John Mayall. His skill certainly didn't go unnoticed , as he was soon asked to join legendary group, The Bluesbreakers, who's revolving cast of stars has included Eric Clapton, Mick Fleetwood, and Mick Taylor. All the while, Rocky always found time to write his own music, and is ready to take his solo work to the next step.
His new single, "Dictator" is a fresh take of Blues Rock N' Roll played like a true legend. The cut-throat licks that Rocky brings to the table slice through the mix of this roaring tune. His quintessential Strat tone gives his riffs their signature All-American grit that fellow Lone Star residents can consider their national anthem. The lyrical makeup of "Dictator" consists of telling "the man" to take a hike, whomever that may be in your life. You are the one who controls your happiness, and don't ever let a single person try to tell you otherwise. After all the years of experience under Rocky's belt, he still has that pure Rock N' Roll spunk in him that makes his lyricism and guitar playing as relateable as ever to fans new and old. As track one off the new album, Shakin' The Dust, "Dictator" not only serves as the perfect introduction to the record, but also to new fans around the world.