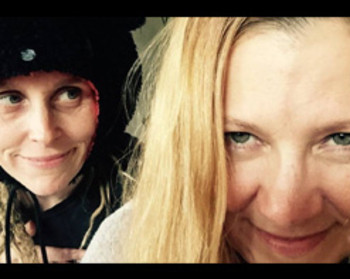 Adrian Connor and Clementine Bonzo, the musical duo better known as Beaux Cheveux, are back with a new video for their song "Rio Grande". You may recall their recent singles, "Deeper Feeling" and "Free Love" as eclectic blends of analog meets digital with explosive harmonies leading the charge. "Rio Grande" is a bit of a departure from the madness of those, serving as a wavy slow-jam with Adrian's sly guitar sneaking in and out of the mix. A sort of sensual mystery reigns over the track while Clementine sprinkles in her laid back rhythmic subleties, creating the quintessential Beaux Cheveux Dream Pop sound.
Site: http://www.beaux-cheveux.net/
The music video for "Rio Grande" is mind-bending to say the least. From shots of Adrian singing in slow motion, to horror-inspired figures in the woods, the scatter-brained imagery makes for a truly entrancing visual experience. It is extremely rare than an artist directs and edits their own video, but being that Beaux Cheveux have built their career on being an exception, it only makes sense that Adrian did just that. The personal connection is evident in the sheer originality of this video. As the third single off their debut album, RO SHAM BO, the duo have showcased their versatility and creativity as a band, traits that make Beaux Cheveux impossible to ignore.