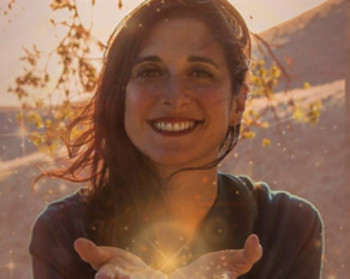 Some coincidences seem cosmically arranged. Consider, for instance, the strange and marvelous case of the high-spirited, extraterrestrial new video from Karen Atkins. In the clip for the funky "High On Love (Can't Get Too)", the versatile Californian singer-songwriter and multi-instrumentalist escapes the planet and coasts through the stars in a cherry-red Tesla Roadster. Imagine her amazement when she learned that Tesla chief Elon Musk plans to send a Roadster – the same model and color – to the Red Planet. If that happened to you, well, you might reasonably assume that the universe had sent you a message.
http://www.karenatkinsmusic.com/
The singer won't be in that particular space-travelling Roadster to Mars, but she identifies deeply with its mission. She's a conscious lifestyle expert and in-demand public speaker as well as a talented musician, and she chose a Tesla for her video for a real reason. To Atkins, the electric car represents sustainability and responsibility. When she takes to outer space in the "High On Love (Can't Get Too)" clip, she's not just joyriding – she's searching for a suitable home for a human race living beyond its means.
Heady stuff for a pop-rock song, to be sure – but that's what Karen Atkins specializes in. Her songs are designed to get you to dance and sing along and think hard at the same time. Atkins never sounds down – she's far too optimistic for that – but this expert in wellness and natural health recognizes the challenges facing humanity, and she's profoundly adept at using the healing powers of music to address them.