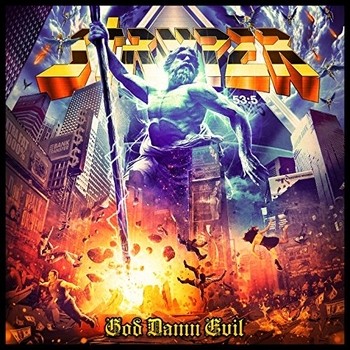 Expressing concerns over the album title, leading national retail chain Walmart has refused to carry chart-topping rock band STRYPER's upcoming 10th studio album, God Damn Evil — available April 20, 2018 from Frontiers Music SRL. Several Christian retail chains have also objected to the title and declined to carry God Damn Evil in their stores.
"We're disappointed," says STRYPER frontman Michael Sweet. "Stryper has always been about making people think outside the box. Our new album title God Damn Evil is a statement that's needed in our society. We've seen evil rise to new levels and this title is simply a prayer request asking God to damn or condemn all the evil around us. Many chains have joined us in making such a statement. Walmart unfortunately has not. The odd thing is of all the chains out there we assumed Walmart would be one to understand exactly what our point and purpose is. Unfortunately not. Although we respect their decision and what's done is done, it's frustrating to see something that's meant for good get misinterpreted and misunderstood."
Rocking since 1984, STRYPER is responsible for such classic '80s metal albums as Soldiers Under Command, To Hell with the Devil and In God We Trust. In fact, STRYPER is the first band (and the only Christian band) to ever have two songs in MTV's Top 10 simultaneously with their hits "Free" and "Honestly." After a sabbatical for much of the 1990's, STRYPER returned strong in the early 21st century. To date, the Dove Award-winning and GRAMMY-nominated band has sold over 10 million records worldwide.
Pre-order 'God Damn Evil':