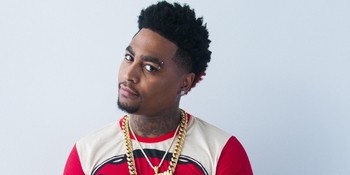 Mike Francis, better known as ZanMan Trippin, was born in Long Island, NY. He now represents "da Nawfside" of Atlanta, Lawrenceville GA, in Gwinnett County. Some of his musical influences are Future, Max B, Wiz Khalifa, and lots of 60s 70s & 80s R&B music. At the age of 13, he started freestyling and continued his creative flow recording his first song at 15 in New York. When he turned 18 he was able to rock the stage for the first time in Buckhead (Atlanta) at Encore. Since then he has worked with Will A Fool, iTrez, Archie Eversole, and more. Trip has also perform along with the likes of Young Dro, Jadakiss, K-Camp, Money Man, Lil Zane, Yung LA, and more.
https://www.zanmantrippin.com/
This 90s baby is young, flashy, cocky, and piped up. His ladies anthem "Bad Ones" has went "Viral" receiving over 1 million views in less than a day on Worldstar; boasting his regional love. With his single, and his self titled track gaining spins in tons of night clubs, you can see his wave is set to take off globally. Now Mr. Trippin's debut mixtape "7 Nights", hosted by DJ X-Rated was filled with several other bangers such as "Havin My Way", To the Side", & "Robert Dinero", you can see why this release was so highly anticipated.
To top all of this heat he's generating he has dropped his first single of 2018, "Bitcoin." This ode to the crypto-currency not only shows that he's a prolific, hard working emcee, but he's also always looking down the road. In flashy new video, ZanMan is here to announce that stacks and paper are a thing of the past and the future is all about the Bitcoin. It may seem like a risky proposition but one listen to ZanMan talk about the big bills he's dropping on the finest things in life and it's clear this is a man who knows how to play the game. Fast cars, high rise condos, and shiny jewelry are all paid for with the swipe of his smartphone, and with the stock soaring through the roof, he's showing no signs of slowing down.