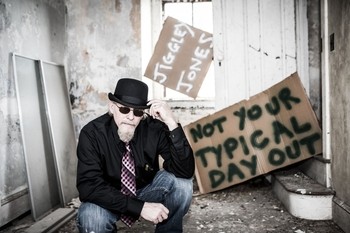 We kick off the week @skopemag with Jiggley Jones. He has been so busy lately and all for good reason. Jiggley is here @skopemag to let you all know about his new album, 'Not Your Typical Day Out.' He also has released  a video for his single 'Truth Seeker'. Kick off your Monday and let Jiggley Jones help you escape from the monotony of life. Enjoy!
How would you classify your music?
Whatever the classification it would definitely be an alternative version of that genre. How about Indie-Folk/Americana.

When did music become more than a hobby and a possible career?
I think as soon as I had my first or second legitimate band experience the love and passion came pouring out. It really wasn't until I tried my hand at songwriting that I felt that I had something to "sell."
What told you that you had a talent for music and did friends/family support you?
I think that because I have had to continually convince myself, the journey has been much more difficult then it could or should have been. Support has been tough to come by for one reason or another and one of those reasons might be the fact that my music isn't "traditional" or "standard." In that case patience has had to be the order of the day for friends and family and that's a tough road to travel.
Who are some of your top 5 musical influences?
Everything that I've wrapped my ears around throughout life has influenced me to some degree. If I had to pick 5 specific influences though I would say Motown stuff believe it or not, most Classic Rock especially Led Zeppelin, Neil Young, CCR, Eagles, Steve Miller, etc… 80's stuff like Tom Petty and The Police, some of the heavier 90's stuff like Soundgarden etc… and lastly Mozart.
What do you want fans to take from your music?
Something that they would consider to be fresh and worthwhile. Something that they could only categorize as Jiggley Jones.
How's the music scene in your locale?
There has always been a strong scene in the Philadelphia area. Philly is a very loyal and proud area. It's an area that to me is very "traditional" musically and like most local scenes the "sound" of the scene is created by it's numbers. That being said the artists from the area that have moved to the next level in the past have done it by breaking from tradition.
https://itunes.apple.com/us/album/not-your-typical-day-out/1294051096
Your debut EP, 'No Spring Chicken' came out in 2012, and your sophomore EP on Nashville's Lamon Records came out in 2014, and now you have the full length 'Not Your Typical Day Out.' and the Single 'Truth Seeker.' How have you grown from one collection of music to the next?
To start off with, the first release was co-produced and the second was produced by someone else completely. On the latest stuff though I produced it myself so I had more leeway to affect the "sound" the way I was hearing it. It also meant getting way deeper into all the little nuances with the countless hours of editing etc… Looking back I wish I would have named the album "Thousand Piece Puzzle" because that's what it was like putting it together, haha. On the songwriting end of it I feel like I'm constantly moving forward as I go, so each release is going to evolve in that sense.
What is the best concert you have been to? What do you like most about playing live?
Years ago when I was quite young I happened to see Jethro Tull and they blew me away. I always remembered that. As far as performing live I like the fact that you have to just let the passion fly and create the moment.
Is there a song on your latest CD release here that stands out as your personal favorite, and why?
I would have to say the song "Warm." I have always liked the sound of a fretless bass which I play on this particular song for one thing. The song itself has a very artsy feel with a deep inner emotion going on. Not to mention I just like the way it's layered production wise.
How have you evolved as an artist over the last year?
I've had quite a break from performing live because of the work on the album which has given me a chance to step back and start fresh with my approach to the emotion of the music. Sometimes you can lose touch if you end up being so busy with the "business" end of things.
If you could meet, play a gig, co-write a song, have dinner, have a drink with any band or artist (dead or alive) who would it be?
That's an easy one and I think that I've answered this before. I'd love to hang out and jam/drink with Led Zeppelin in their prime (mid 70's).
What's next for you?
It's time to take this new album to the next level. Hopefully get a good tour out of it and bring it to the right listeners.