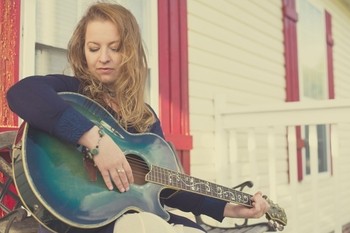 Nashville-based singer-songwriter Ellen Starski is happy to premiere her song "Missing You" with Skope today. "Missing You" is the third song on her solo debut album, The Days When Peonies Prayed for the Ants, which comes out on May 11, 2018.
"This song is pretty much a description of the couple years I spent in Knoxville, TN," says Starski. "The emotions in this song stem from a young lady leaving her hometown and family for another state, to the end of a relationship and every little moment in between."
Throughout the songs on the album, which was written over the course of 12 years, Starski explores both her homeland and herself, traveling from the coal country of rural Pennsylvania to the roots-music hotbed of Nashville, Tennessee, and creating a soundtrack to that period of self-discovery. The album is autobiographical and rooted in a lush mix of indie-folk, orchestral Americana, and organic pop.
The Days When Peonies Prayed for the Ants was recorded in East Nashville and produced by Anne McCue. The album also features a handful of the town's top players: drummer Paul Griffith (Jason Isbell, k.d. lang), bassist Jimmy Sullivan (Lee Ann Womack), pianist Carl Byron (Michelle Shocked, Jim Lauderdale), and drummer Bryan Owings (Emmylou Harris, Tony Joe White). "I definitely had an idea for how this song would sound as we entered the studio and the musicians completely understood what I was going for, and nailed," says Starski. "There are a lot of musical ups and downs here in Nashville, TN, but one of the greatest things I've discovered is that these session artists are no joke. With the right gals and guys the process of creating an album is a dream."
Photo Credit – AmeliaBooth