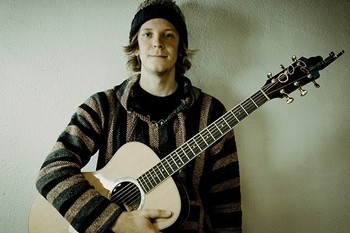 Growing up in the forest and spending much of the last decade touring the world, it's no surprise that indie folk/rock musician Shane Palko has incredible artistic vision. With a guitar placed in his hands at age 6, Palko took after two of his older brothers in search of telling a story through its strings and his voice. While he was an accomplished drummer for years, both as a member of his own band and a fill-in for others, those who truly know Palko have seen that he is an expressive singer and songwriter at heart. This remarkable young artist is impossible not to root for; the songs he writes are terrific, his look is earthy and earnest, his confidence is undeniable, and the sky's the limit!
Shane Palko has done quite a lot in his 28 years of living. He's performed his music in over 20 countries with even more places added to the list every year, like China, Vietnam and even Russia. He even took courses at a college in South Africa for a semester while gigging and teaching guitar at a township school in Mamelodi. It is Palko's incredible dedication and fortitude that allowed him to do and succeed what he sets out to do, even at a young age. His love for international cultures is paired with his passion for environmental issues, as he feels it is important to be "connected to a place" and cherish it. The Pennsylvania native truly experiences this on tour, when both strangers and friends open their homes for him to stay. Shane manages to hold a position as a socioenvironmental specialist at an environmental center near his home.
On a returning visit to the country of Uganda, Shane Palko's new single and video for "Staring Out The Window" were born. In the week of interviews and television appearances across Uganda, leading up to Maro's NziragaNago Festival, Shane joined forces with Joanita Zachariassen, a Ugandan-born musician who currently resides in Denmark. While Miss Zachariassen appears as a mysterious character in the video, the softly complementing voice that joins Palko and his guitar on the track is Rachel Amara Walker. In the video, we find Palko in many different locations across Uganda, sitting in villages and engaging with new people as he sings. His folk and indie style truly come to life with the guitar work, as well as the reoccurring themes in the vocal melody. The way his videos pair with songs always fall perfectly into place. This time, the vision of Papa Shabini, the music video director, carries out the story in a colorful display of haunting familiarity.