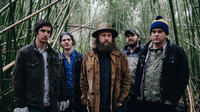 Lord Nelson taps into a bluesy classic rock with the emotionally charged "Through The Night". Sung with such earnestness, the way the songs unfold reveals a true talent for form. With just the right sort of rollicking rhythms, the entire album feels infinitely soothing. By far the true heart and soul comes from the potency of the vocals. Lyrics have a storytelling quality to them, with each song yet another glimpse of a life lived to the absolute fullest. Riffs have an infectious quality to them, the drums with a perfect level of punch. Best listened to with the volume blasted, everything about these songs has a reflective thoughtful quality to them.
https://www.facebook.com/lordnelsonband.va
Nicely starting things up "Second Chances" unfurls with an uncanny level of grace. One of the highlights of the album, the melodic richness and reassuring chorus feels so inspiring. Rushing through with tremendous power is the blurred beauty of "Tail Lights". Stripping things down a little bit and infusing it with a western twang is the country rock toe tapping splendor of "Black Hills". Fanfare weaves itself into the playful "Fingertips". Things slow down a bit on the lush rich textures of "Good Time". Playful keyboards rest at the center of the jazzy "Safety Meeting". Funky to its very core "When The Lights Come Down" goes for a late night, stylish sort of vibe. "Running On Back" ends the album on a soulful note.
"Through The Night" shows off the undeniable chops of Lord Nelson in crafting an entire world, one that feels so true and real.