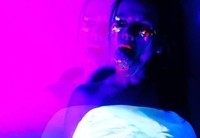 Knee High Fox's "Jawbreaker" goes for a defiant edgy sort of industrial pop with its confrontational approach. Everything about the sound simply stuns. A wild carefree spirit imbues the entirety of the track. A dark beauty permeates the entirety of the album, with the full-bodied all-consuming style working wonders. References to early Nine Inch Nails and the seductive sound of the band Garbage feel undeniable. Like those two bands, the vocals rest front and center of everything. Lyrics cross a wide variety of emotional temperaments, going from seduction to absolutely insanity, doing all with a tremendous amount of style.
Starting the album off right is the album high note, the propulsive giddy energy of "Witch". Infinitely catchy, the unhinged quality of the piece is undeniable. Grooves rush forward with an intensity. The shards of noise work wonders on "Those Girls". A symphonic sound takes hold on the potent beat workout of "Jawbreaker" where the song goes for a powerful overwhelming spirit. On "American Beauty" things slow down a bit, showing off a more meditative reflective quality. Heavy riffing infuses itself with the propulsive "Ladylike". Tenderness reigns supreme on the tragic quality of "Peephole". Stripping things down to the essentials "Lovefool" goes for a spacious scope, resulting in the most intimate piece on the entire album. Closing things off, this Cardigan cover feels to neatly reflect their sensibilities.
An absolute blast of an album, Knee High Fox creates a virtual funhouse of madness with the fantastic "Jawbreaker".