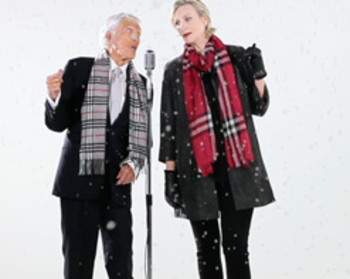 The Holiday Spirit is something that cannot simply be described with words. To each and every person on this spinning orb we call Planet Earth, The Holiday spirit differs greatly. Some drink egg-nog, some decorate their homes, and others like to spend these cold months leading up to the grand festivities by going door to door and gracing their cherished neighbors with the sweet treat of melody and song. Yes, I am referring to the great holiday pastime known as caroling. Who better than two of the biggest names in entertainment to chime in and remind the public of the joys of caroling? Dick Van Dyke and Jane Lynch are teaming up to do just that, and they're inviting you to come along with them.
http://www.kitschtonerecords.com/
Composed and arranged by the great American musician, songwriter and producer, Tony Guerrero, "We're Going Caroling" is a new spin on old sounds of the holiday season. Crafting an original holiday song can be like tiptoeing on glass in the modern era with such influential classics such as "Jingle Bells", "Rudolph The Red Nose Reindeer" and "Deck The Halls" among many others, already ingrained in our collective consciousness as the end-all-be-all of the niche genre. But Guerrero saw this as just the kind of challenge he'd love to trump. As Jane Lynch's producer, Guerrero was working on a one-off project with Dick Van Dyke when he saw the potential for a collaboration between the two superstars. With Dick & Jane on board as the faces and voices of his composition, "We're Going Caroling" not only holds its own next to the classics, but has graciously joined the ranks of those household hits by becoming a modern mainstay of holiday seasons to come.
Directed and edited by Guerrero himself, the delightful snowy footage shown in the music video was shot at Universal Studios in Hollywood, California. This video features Dick & Jane playfully dancing and prancing around the mic as they detail their plans to spend the day singing door to door. The white backdrop and snowfall along with the stars' winter garb set a scene that will inspire anyone to get outside and appreciate the blessings of caroling. Dick Van Dyke and Jane Lynch have made magic thanks to Tony Guerrero for this modern holiday classic. Their fierce aura of The Holiday Spirit shines through the screen in this effort. May any holiday-haters be warned: It is contagious.