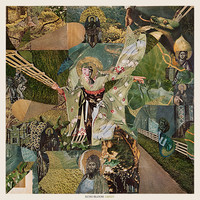 After bouncing between Washington DC, Los Angeles, and San Francisco, Echo Bloom's founder, Kyle Evans eventually caught the muse he was searching for in Berlin. Completely submerged in the German culture, Evans found inspiration in dusty libraries along the Spree and long, quiet bike rides through the city. After a few months, he left Germany with material for three records. Because each album seemed to fit into slightly different genres, Evans began thinking about them as different seasons, different countries and finally, different colors. – Green, is their latest album out now.
URL: http://www.echobloom.com/
This is an eclectic band of pop-folk stylings who get every note right for what it is they're doing. "Comet" opens the album on a slightly somber note, but it's the proper way to get this collection underway. It's a cool little tune with a hypnotic vibe to it, especially when the female backing vocals come in. After a laid–back opener, they get a little more serious with "The Duke" which starts off nothing but excellent, with some rocking guitars before Evans goes full on awesome with a killer vocal and a seriously well written track, especially on the chorus. It's one of my picks on this release.

On "Grand Marquis" they take it mid-tempo at just the right time with another piece of pop wonder. The b/g vocals once again add just the right touch to another good song. And the piano kicks in with a narrative style track on "Cecil DeMille" with a different result altogether on this one. It's a very Beatles style track, like something from Rubber Soul. Marlon Brando, Cary Grant and others waiting for their queue are mentioned. And things pick back up on "Song For Seven" with an industrial folk-pop vibe on another great track, and by this time you're hooked on the band because of yet another winner.

"Anthony" is likely the deepest track on the album, with a storytelling approach that just keeps to listening the whole time. It's an almost spooky sounding story, if anything for drama to hold it up. These songs are all remarkably compelling, and this one is no exception to that rule. "Fire In Your Eyes" also plays well with the former, as it too has spooky feel to it. It's about driving to Baton Rouge, LA. But this is massively contrasted on the next track, "Love & Superglue" with its notch up in the energy department, but it's still mid-paced for all it's worth. At the end of the day it's another amazingly original track.

"Mary" is yet another intriguing song, with more of that holy ambiance to be found on most of the album which is a sound that practically dominates the album. You won't find one bad track to speak of on this album, with "The English Teacher" serving up even more of what it's chock full of. At the same time is anything but a music lesson because the playfulness outweighs the seriousness. "The Swimmer" and Unchanged" close the album, passing all efforts with absolute flying colors. This is not an album you'll only listen to once, it's a contagious collection of pop-folk gems.
TWITTER: https://twitter.com/echobloom
Alan Foster