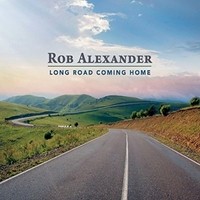 Performers and writers like Rob Alexander represent a continuing new breed in the world of popular music – people with the creative and financial wherewithal who work at productive non-music careers while still utilizing modern technology to pursue their artistic ambitions and find a waiting audience for those efforts. Rob Alexander is a physician anesthesiologist based and working out of the South Florida area who likewise holds a faculty position with Florida Atlantic University's College of Medicine. His musical acumen is immediately apparent. The single "Back to the Radio" hails from his full length solo release Long Road Coming Home and highlights gifts that are centered on melody working alongside vocals inviting comparisons to performers like Elton John. The single and album are both produced by multi-instrumentalist Gabe Lopez and there's little doubt that his contributions inform the final product. It doesn't matter. Rob Alexander's "Back to the Radio" is uniquely his own in every way.
The rousing, steadily climbing rock atmosphere the song adopts has strong melodic merits from the first but they are never presented in such a pronounced way they dominate your hearing. There's acoustic and electric guitars working together from the first and the inspired rise of the tune makes it clear, if nothing else does, why Alexander chose it as the album opener. The drumming is brisk and assertive without ever sounding too heavy handed. Alexander's songwriting talents are considerable and he's obviously working with sympathetic creative partners who aid him in realizing the full potential of this tune. "Back to the Radio" is an appropriate title thanks to the way this song recalls a sound from an earlier time not far removed from our own, but far enough removed to invoke a sense of sentimentality hearing this song.
There's some backup vocals thrown into the mix at certain points through the song, but Alexander largely shoulders the song with his own voice to supreme effect. He doesn't have the conventional voice you might expect from songs of this ilk, but the comparisons to artists like Elton John are valid without them ever lapsing into pastiche or imitation. Alexander's lyrical and musical material emerges from this recording with its own identity and a certain direction going into the future. There's no question, based on "Back to the Radio" alone, that Rob Alexander's skills merit a full fledged effort to see his music fly for a mass audience and Long Road Coming Home promises to be the first memorable lunge in that direction. This singer and songwriter's voice is needed in the modern music world thanks to the heartfelt authenticity brimming behind every note and word and one can finish hearing this song reasonably certain the remaining numbers on Alexander's Long Road Coming Home will follow suit with the same level of excellence. 2018 will prove to be one of the more memorable years in this artist's life and a launching off point for even greater heights to come.
AMAZON: https://www.amazon.com/Back-to-the-Radio/dp/B079THWJWB
Jason Hillenburg