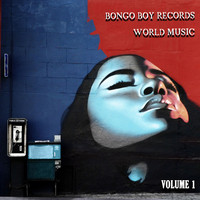 Bongo Boy Records release their world music album titled 'Bongo Boy Records World Music Volume One by Various Artists.'
Cousins STEEL & Cortez goes for a physicality with the wild dance of "Trini Nights". Nicely bringing together a wide variety of styles into the mix the entire piece has a kaleidoscopic quality to it. By opting for such an unhinged spirit, the song positively buzzes with energy.
A great adherence to simplicity defines Robert Slap's "Aspara". Without overdoing anything, the whole piece has a spacious quality to it. The rhythm has a naturalistic quality with the pastoral elements of the sound working wonders
Hard to precisely pin down is the totally surreal trip of the Violanta's "La Bohemienne". Absolutely timeless, there is something so familiar yet simultaneously unknown. The melody has an infectious quality to it as it unfurls with a great majesty.
"Guru Stotra feat. Siddhant Bhatia" goes for a meditative quality, as Vikku Vinayakram, Selvaganesh & Swaminathan sprawls out into the infinitive. Percussion goes for a purely tactile quality for the hypnotic fervor of the piece becomes all consuming. Layer upon layer of sound comes together with a great flexibility, making the piece full of surprises.
Lala Queenbee goes for a gallant take with the passionate "Amor Interrumpido". Full of a fiery spirit, her vocals have a commanding presence about them. Nicely anchoring her powerful vocals are the gorgeous instruments, from the unhinged quality of the guitar to the emotionally charged rhythm.
Perfection defines Shea Welsh's highly intricate "Kuna Yala Song – Panama's Triumph feat. Yulineth Castillo". With a clear fondness for jazz, the way the song evolves makes it akin to a great journey. A great attention to detail means the multifaceted quality of the work becomes deeply entrancing.
STEEL goes for a jaunty style with the joyous "Aw". With a celebratory vibe, the song's giddiness feels undeniable. Guitars have a low-slung quality to them, as the whole piece has a raw funkiness to it.
The soothing style of Black Prophet's "Distant Love feat. Duane Stephenson" washes over the listener. Small echoes add to the sparkling sound, as the vocals have a graciousness to them. A tremendous amount of color enters into the mix further emphasizing the sense of pure joy.
Rajhesh Vaidhya keeps things to the essentials with the powerful "Shivoham". Employing elements of mysticism and drone into the mix, the whole piece radiates with hope. The attention to detail further emphasizes the extreme intimacy of the piece.
"Chupi Chupi" shows off Ban Brothers' ear for melody. Vocals give the piece a tenderness of sorts. Everything feels so rich, so luxurious as the strings nicely frame the entirety of the track.
Drifting up into the sky akin to a fantastic dream is Amanda Abizaid's "Release Me". A duality exists within the song, one that points to the future while drawing from the past. Hard to precisely pin down, there is something so seductive about the sound.