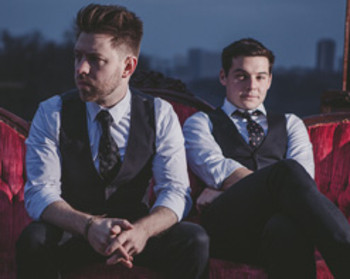 There is no doubt that music is an incredibly powerful force in the world. What Philip Basnight and Colin Cross of Broke Royals didn't realize, is just how much their own music can achieve the same strength. When the two musicians from Washington, DC met in 2014, Collin had asked Philip to record at Unkempt & Overcaffeinated Studios, where the project blossomed naturally. The two never anticipated starting a band, let alone inspiring a nation halfway across the world: Thailand.
In May of 2014, a military coup overcame Thailand's people, and its citizens discovered Broke Royals' debut single "About Time" right in the midst of it all. Given their situation, the citizens resonated with the song and immediately felt connected to the band. Broke Royals were even invited to play a benefit show, but coming to Thailand would be greeted with their arrest.
Broke Royals did not stop there, and their new song "As Long As I Can See" proves that they have a lot in store. By blending pop, rock, and even EDM, Basnight and Cross have developed a sound that perfectly matches the mood of the music video. It starts with beautiful scenery; a forest, the water, and a beautiful sunset enveloping the band with it's light. Almost immediately, we meet different women and girls who provide a special and beautiful element to the visual: sign language. Their hands gracefully follow the lyrics, and bring on a whole new meaning to them as well.