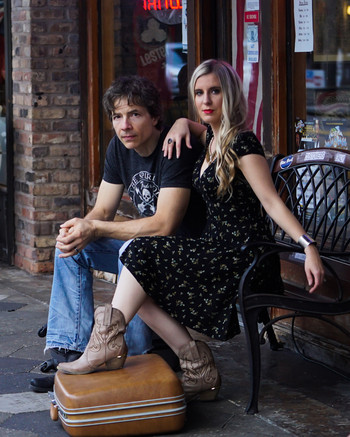 Nashville-based Americana husband-and-wife duo Swearingen and Kelli (AJ Swearingen and Jayne Kelli) are pleased to premiere their latest video, "The Marrying Kind." The title track from their album released in 2017, the song, according to Kelli, "came out of a situation where I started to feel trapped and contained. Give a girl a glass a wine and a keyboard, and out comes the truth. Being a hopeless romantic, for better now, and for worse, I rewrote the end to 'maybe I'm the marrying kind.'"
Filmed at one of the duo's favorite historic venues, The Mauch Chunk Opera House in Jim Thorpe, PA, the video was directed and produced by Full Frame Media, and the moodily lit stage lent itself perfectly to the mysteries of love and the contemplation of commitment. "Built in 1881, this place has a special aura to it," says Kelli. "I sat behind an 1890 Chickering Grand nine-foot piano. We had played a memorable show there with Josh Kanusky on drums and Nick Franclik on bass."
"We're hoping to include a live version of 'The Marrying Kind' on the special edition vinyl release of the album," Swearingen adds. "We wanted to release this record on vinyl because we feel our production choices were naturally and deliberately reminiscent of the '70s. Our photographer, Donna Green, shot this image for the cover, and it somehow encompassed the entire feel of the record. We said this thing has to be on vinyl!"
Unafraid of spilling their guts in their music, The Marrying Kind album presents 12 songs that challenge the listener to explore life's hard questions while embracing what you have in the moment. "The song in this video set the tone for this album," Kelli explains. "It's full of songs that are not traditional love songs, but rather songs about coming terms with where you are with commitment, dealing with ghosts of past relationships, and taking the road that's not certain."
Swearingen and Kelli's music offers an intimate look at many of life's layers via folk-story lyrics filtered through a sonic veil of stunning harmonies and alt-country instrumentation. The Marrying Kind is an album steeped in the sounds of Americana and country-folk with rich harmonies and character voices that are a modern echo of the singer-songwriters of the '60s and '70s. Organic, honest, and real, their music springs from a connected, closely shared life. "The creative process is very vulnerable and we trust each other completely," says Swearingen.
AJ Swearingen, born in Bethlehem, Pennsylvania, grew up in a house where the classic country records of Kris Kristofferson, Merle Haggard, Johnny Cash, and Willie Nelson were always spinning. "I love that music, but the folk records of the early '70s like Gordon Lightfoot and Simon & Garfunkel are what really fueled my desire to pursue a life in music." He began playing at 13 and started performing professionally in his late teens. His acoustic guitar finger style echoes his influences – James Taylor, Paul Simon and Lindsey Buckingham – but his silky, soulful baritone voice is definitely his own.
Jayne Kelli's voice is both husky and sweet, tender and bluesy. Kelli was born in the small country town of Lapeer, Michigan. She grew up listening to her parents perform songs by John Denver, Jim Croce, and Glen Campbell around the campfire. Jayne began writing and recording her own songs at the age of 15. Her first release garnered praise from critics, calling her "a formidable talent with elegantly poetic and emotionally charged songs." Jayne's song "Sweetness" was chosen as an anthem song for the domestic violence foundations Victim Services International and Angel Wings International in 2015.
This partnership has led to some extraordinary things over the past few years; including writing and producing their own symphonic pop shows of music from the writers that inspired them from the '70s – Cat Stevens, Gordon Lightfoot, Carole King, James Taylor, the Eagles, Fleetwood Mac, and more – with performances alongside orchestras in Edmonton, Dayton, and Cleveland. Their song "You're Not Here With Me" (from their debut album) was recorded by folk icon, Tom Rush and is available on his album What I Know. "Give Everything Up," also on their debut album, was licensed by DMX for restaurant airplay.
Swearingen and Kelli, together and separately, have shared the stage supporting Kenny Rogers, Crystal Gayle, Livingston Taylor, John McCutcheon, and Dave Mason, among others. They have continued a heavy touring schedule in support of the latest album.
Photo: Donna Green