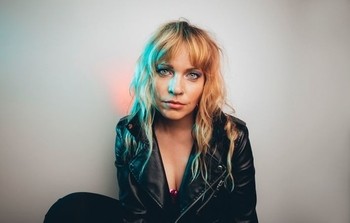 Nashville artist Brandy Zdan has released the music video for her incredible new single "I Want Your Trouble." This is the first single off her forthcoming sophomore album, Secretear, out May 11 via Tallest Man Records.
The video is reminiscent of the early effervescent MTV days with deeper inspiration rooted in late '70s and early '80s videos like the Talking Heads "Once in a Lifetime," Elvis Costello's "Pump it Up," and the Go Go's "Head Over Heels." It goes along with the kick you over rock n roll vibe of the track that began in a text message Zdan received from her now husband, Aaron Haynes (of The Texas Gentlemen), saying, "I WANT YOUR TROUBLE." Zdan immediately knew she had to turn that text into a song. They penned the tune together and Haynes plays drums on the track.
Secretear, Zdan's upcoming sophomore album, is a Spanish word for a confidential conversation or secret. It was co-produced by Zdan and Teddy Morgan (John Oates, Trace Adkins, Carl Broemel), featuring a rhythm section comprised of Haynes on drums and My Morning Jacket's Tom Blankenship on bass and Carl Broemel on pedal steel and guitar. These new songs see Zdan stepping back into her rock roots and the music she grew up on ('60s and '70s rock n roll). For this album Zdan shed a lot of her personal skin and musical past, letting go of those things that held her back from being the best version of herself. She really put everything on the line for this record and gave all of herself, so much so that she blew out her voice and ran her fingers raw from playing guitar the first week of recording.