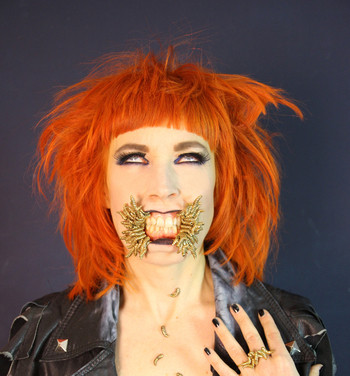 Mignon's new Album Toy's Tantrum released February 9th 2018 by BadGirl-Records, leads the listener into a world of creepy toys, dreams and dolls, in an explosive package of Rock, Garage, Blues and Pop-Psychodelica.
An Album about non-conformity, freedom and thinking "Outside the Box".
The Song and video Play Dead reflects the "hear no evil, see no evil, speak no evil" mentality, for those who like to ignore and bury their heads in the sand dunes of their mind. It's time to wake up and speak up!
Mignon has once again defied expectations to deliver a surprisingly new and arresting sound, with an eclectically spookish mix of searing rock 'n' roll and Spaghetti Western-esque swagger.From the feverish 60's-fuelled shakedown of 'Make Believe' and frenetic burn of 'Bulldog" to the jubilant murder march of 'Fiesta' and hauntingly jaunty 'Ghost of a Memory' (featuring the one and only Adrian Strout of The Tiger Lillies on the singing saw), Toys Tantrum is a dreadfully addictive play date! Other album guests include, Fredovitch from 'King Khan and the Shrines' on the Hammond Organ, the String Quartet most recently noted for their collaboration with Rufus Wainwright, Corwin Hambrick on bass/guitar and Mathias Brendel (Peaches) on Drums.
With the new Album Mignon evokes independent minds, encourages to question everything, believing in Utopia, Creativity and Revolution.
Rebellion against the Norm, the more people are free from religion, traditions and social pressure the more space they have to think for themselves
Listen to "Toys Tantrum" on Spotify: