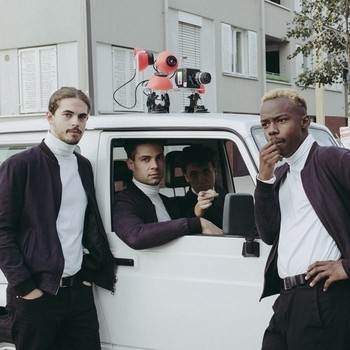 At Pavillon's rapid ascent into musical notoriety continues with the release of their new single "All Eyes on You" and it's a combination of their commitment to playing live gigs as well as their innate songwriting skills that's helped bring them to this place today. They bring a two guitar attack to their songs without ever allowing the six string to assume a dominant role in the band's music. Instead, the guitars in At Pavillon's "All Eyes on You" are orchestral in nature and recorded with nuance and just the right amount of physicality. This four piece is poised to take their music onto a global stage and make an impact outside of continental Europe thanks to a blend of their first class songwriting talents, performing charisma, and knowledge of what modern fans want. At Pavillon's songs are powerful and viscerally connected to what modern audiences are hoping to hear.
http://www.atpavillon.com/
The musical qualities of the song are undisputable. The band has a, perhaps, unlikely two guitar configuration despite its pop song inclinations and lead guitarist Bernhard Melchart has a noticeable spark with rhythm guitarist and lead singer Mwita Mataro. Melchart doesn't take a traditional guitar solo at any point in the release, but he does lay in some compelling licks later in the song that brings a lot of added drama to the song's home stretch. The rhythm section performance of bassist Tobias Kobl and drummer Paul Majdzadeh-Ameli gives "All Eyes on You" much of its pop and the near rambunctious feel that helps make the song so memorable. There's a good vocal presentation as well that's not limited to just Mataro's singing, but instead At Pavillon has four quality singers at work throughout the song. The presence of backing vocals on this song isn't omnipresent, but it gives flight to the song particularly during its chorus.
The lyrics definitely aren't making any attempts to remake the wheel or serve up performed poetry, but there's also no question that At Pavillon's lyrical content is every bit as intelligent as their musical content while still remaining quite accessible to a wide audience. The presence of Mataro's singing comes in early and the lyrics give him some fine percussive material to build his phrasing around. The writing definitely serves the needs of the song while still making a statement that's all their own. There is a distinctly European feel to the songwriting and it has a bright mood effortlessly sustained throughout the course of the tune, but the appealing nature of this tune isn't confined by geography and At Pavillon's new single "All Eyes on You" will likely bust them wide open in a whole new way. Vienna, Austria's music scene has produced a real winner with this band and they deserve every bit of the prominence they've achieved up to this point while being poised to stand among the best pop rock bands today.
I-TUNES: https://itunes.apple.com/us/album/all-eyes-on-you-single/1352326390
William Elgin