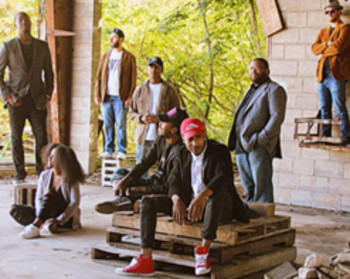 Big city dreams can be described as a person from a small town dreaming of the excitement and prosperity of the big city. Kalamazoo, Michigan's Last Gasp Collective is determined to debunk the myths of the big city in one fell swoop with their compelling new single "Small Town". With a musical collective involving eleven current active members, this crew is proof that there is power in numbers and truly amazing things can happen anywhere, even in a "Small Town".
http://www.lastgaspcollective.com/
The origins of Last Gasp Collective trace all the way back to the movie-like no man's land of Cassopolis, Michigan. With a population of under 2,000, there was a lot left to be desired for Cass native, Jay Jaksonn, a founding member of LGC. Jay and his best friend Lakeshore Drew picked up and moved to Kalamazoo, where they started playing open mics to garner exposure and master their craft. Compared to Cassopolis, Kalamazoo had a bigger city vibe which influenced the friends' music. They began networking with like-minded artists in their new region, especially those who had a deep love of Hip Hop music. At the time, Kalamazoo was a dead zone for Hip Hop, no one wanted to play it because no booking agents or talent buyers cared to book them with the mentality that they would bring the "wrong crowd". Jay and his new group of musical kindred spirits took this as a challenge and began a movement in the Kalamazoo scene to give Hip Hop the recognition it deserved. Slowly but surely, they started gaining respect and acceptance for their style and venues began booking this dynamic musical tsunami. LGC puts focus into live instrumentation which truly sets them apart from the town's preconceived notions of the genre.