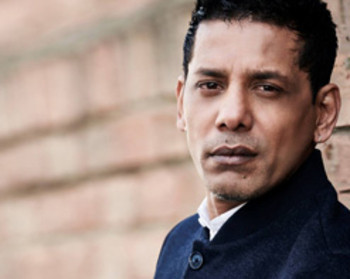 The heart of a fighter boils over with die-hard strength, discipline, and intensity. Now imagine if that same fighter's heart burst out onto pen, paper, and an acoustic guitar… Here at HIP we have the absolute pleasure of introducing you to a one of a kind world-class fighter turned musician. Abdul Ali, better known as Ali Jacko, was born on the East End of London. Growing up, Ali was the type of kid to excel at anything he put his mind to. He was a Junior League footballer, a BMX Freestyle Schoolboy champion, and by the time he was 17, he ran his own fashion design and manufacturing business.
After meeting the legendary Muhammad Ali on an airplane, his passion flooded into the world of kick boxing, where he held a massively successful 12 year career boasting a record of 44 wins without a single loss, and running JKO Productions out of the ring. An inspiring career now behind him, Jacko's sights are set on his next bout as he prepares to take on an opponent he's never seen before: the music industry.
Jacko uses his experience to apply a fighter's passion to his music with plans to release a total of 11 new songs and videos this year. While naysayers scoff at the thought, Jacko has already defiantly begun dropping a song a month including the ultra-personal "I Found Love" and sun-kissed "Only Thing I See". Along with these two heavy hitters, we are proud to also bring you the blue-collar anthem, "Working Man", providing new fans with three knockout hits to fall in love with.
Even with three songs offering an entire spectrum of sound, Jacko's gritty, signature vocal style makes each tune unmistakably his. "I Found Love" gives fans an exclusive look into the heart of the beast. Although he's left countless men cowering below him, his one soft spot is identified in this video. Featuring personal footage and shots at his own home, "I Found Love" serves as a way to get to know this artist like never before. "Only Thing I See" resides on the other side of the spectrum as a pop-rock jam. This summertime smash flaunts a larger-than-life chorus that refuses to leave your head. Oh, and being shot on the world famous London Docklands doesn't hurt.
Finally, hard working men rejoice! Your theme song is here. "Working Man" details a day in the life of a man working every day of the week. The hook-laden tune provides a sing-along for the middle class with a sturdy structure and unstoppable groove. In the eyes of Jacko, although the work week is tough, it's all worth it when you're providing for the woman of your dreams.