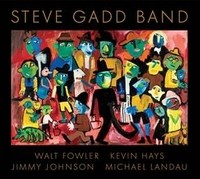 The Steve Gadd band, headlined by the legendary drummer, is out with their fourth self-titled album on March 23rd. An eclectic collection of jazz songs that showcase each member's individual taste and talents, it is certainly a pleasure to listen to. Playing with Gadd are Walt Fowler (trumpet and flugelhorn), Jimmy Johnson (bass), Michael Landau (guitars), and Kevin Hays (keyboards and vocals). Gadd, Fowler, Johnson, and Landau all were members of James Taylor's touring band, and their familiarity with each other shines through each brilliantly put together track on the album.
The songs as a whole are an experience unlike no other- cool jazz, funky riffs, and stellar drum work from one of the most influential drummers in the music industry all come together in a beautifully layered and unique listening experience. With such an impressive group of extremely talented and experienced musicians, this album is as brilliant as one would hope it'd be. It has a dynamic sound that comes from each member of the band contributing their own work, leading to a landscape of gorgeous variety.
One of my favorite tracks is "Where's Earth?", one of the funkier songs on the album. I can't get enough of Johnson's work on the bass and it especially shines in this track. Smooth and almost begging you to dance to it, it is filled to the brim with fun and excitement. I want to go out and have a night on the town with this song playing in the background. It's cool, it's entertaining, and it has a dreamy, hazy element that really makes this song stand out.
"Spring Song" is the only track on the album with vocals. Gadd and Hays worked on the final tracks in the album, ad Hays' voice is so smooth and perfectly suited for the slowly paced music. It is soulful and sultry, the perfect song you'd slow dance to with your significant other. The lyrics in particular are fantastic, being sure to match well with the utter brilliance surrounding the rest of the album. "Oh, we all want to win, but winning's not the answer," is my favorite lyric from "Spring Song", though it is full of wonderful lines.
"Timpanogos" is the closing track on the album and it sends the listener off in style, with a rich song that shows off each member's specific talents beautifully. It's a song that really brings home the fact that you've had a one-of-a-kind experience, one that certainly can't be replicated to this degree of success.
Gadd is a brilliant band leader, an excellent drummer, and a treasure to the music industry. It comes as no surprise to know an album this great came from someone with credits for his work with countless iconic musicians as well. This album has endless soul, boundless imagination, and the right to be called one of the best collections of jazz songs I've ever heard. If you appreciate the genre or merely wish to experience an album like no other, look no further. The Steve Gadd Band is for you.
10/10
Victoria Patterson