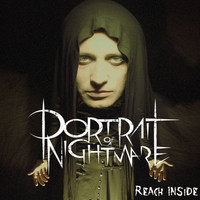 Portrait of a Nightmare delves into a world of distortion and destruction with the raw visceral "Dirtier You, Dirtier Me". Stylistically Portrait of a Nightmare nicely combines industrial, hard rock, and metal into a satisfying whole. By far the highlight of the track comes from the intense vocals that have a commanding presence over the entire piece. Nearly physical in the way everything comes together the whole of the track simply washes over the listener with incredible riffs and propulsive rhythms. As the song unfolds, it reveals a great number of hooks, as the catchiness of the decadent sound works to its full advantage.
Stream: https://portraitofanightmare.bandcamp.com/track/dirtier-you-dirtier-me-4
For the very beginning of the piece Portrait of a Nightmare sculpts an intoxicating world. Upon the vocals entering into the mix the song transforms into a ritualistic sort of realm. Lyrics focus upon the darker realms, the song itself living in a sort of surreal in between place. Everything moves at a breakneck pace for the song represents a defiance of sorts. Refusing to ever let up, the whole piece teems with life. Vocals scream above it all as the whole piece careens wildly and unexpectedly. Employing a wide variety of twists and turns the way the guitars soar into the sky makes the whole thing feel absolutely majestic.
https://www.facebook.com/PortraitofaNightmare
"Dirtier You, Dirtier Me" goes for a gritty no-holds barred sort of sound, one that has Portrait of a Nightmare go for an all-consuming, swirling approach.