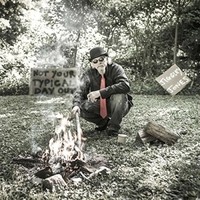 Jiggley Jones isn't supposed to be here. It's 2018 and the wheeler dealers of mainstream music are well into their campaign aimed at eliminating melody and reducing everything to its lowest common denominator. Musicians, writers, and singers like Jiggley Jones should be long gone, consigned to busking for dollars on pedestrian drags, quaint reminders from earlier times, like phone booths. Jiggley Jones has confounded this popularly held wisdom since his 2012 debut and the intervening five plus years between then and now are full of prestigious gigs, laurel leaves from many quarters of the music world, and a growing fan base appreciative of the unique gifts Jones brings to bear. His new studio release Not Your Typical Day Out features ten songs certain to further elevate his standing and demonstrating the same intensely human, poetic qualities distinguishing his previous releases.
AMAZON: https://www.amazon.com/Not-Your-Typical-Day-Out/dp/B0768QW9CZ
Not Your Typical Day Out memorably opens with the track "Danger Island", a rather artful piece of writing married to a low key and largely acoustic centered arrangement. It's a song requiring a minute or so for building momentum it will sustain for the song's entirety. Once "Danger Island" is rolling, however, it proves to be an ideal opener. The churning, revolving qualities of "Wide Awake" are nicely accented thanks to the presence of accordion carrying much of the melody and the backing vocals used so effectively on the opener make an equal impact with this particular number. Violin leads the way instrumentally on the song "Del Alma" and benefits from occasional harmonica counterpoint. Jiggley Jones' voice is more than enough for these songs, but it isn't too much of a good thing for him to be so frequently joined by secondary singers. If anything, they further sweeten the presentation.
"That Pearl" is a little more experimental than Americana themed tracks we typically hear, but the unusual vocal approach never steers the song too deeply into uncharted territory. The presence of acoustic guitar is stronger than typically heard on Not Your Typical Day Out, but he deserves plaudits for having a broad-based instrumental focus rather than leaning too heavily on six string concoctions. "Warm" continues exhibiting his tendency for testing the boundaries of folk/Americana music with what you might dub a song of unplugged psychedelic Americana as the slightly skewed, dream-like qualities of "Warm" are entrancing from the start. Every song is fully fleshed out, fully realized, and even the more challenging cuts are no exception. He drags up grit full of genuine gravitas for his vocal on "Restless" and the recurring yowls of slide guitar are never over-done. It's the album's penultimate tune and, in some important ways, pairs better with the closer "Rain" than any tandem of tunes could hope for. The dueling vocal approaches in the song and the generous dollop of ambient sound effects never seem overly affected and the song, as a whole, puts an emphatic period at the end of the album's long, fluid sentence. Not Your Typical Day Out will finish this year as one of the most formidably creative recordings from anyone, any genre.
Jason Hillenburg