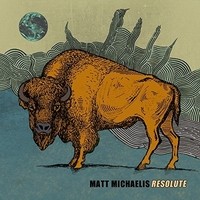 Resolute – by Matt Michaelis can be found on all digital music platforms, the songs primarily employ melodic riffs in the style of Led Zeppelin, lyrical concepts similar-to The Black Keys, and guitar work in the style of Gary Clark Jr. The disc is packed with nine tracks with different vocalists appearing on eight of the tracks which include: "Running from the Law," "Bricks for Feet" and "The Weatherman." But there's much more to discover on this world class album Michaelis and company have combined with all their heart and souls. Each song is stunning, with producer, Rich Bischoff, even singing on one of them.
Of the many singers appearing on the album, the first to come blaring out of the speakers, is Rachel Dee Minyard, and what a vibrantly soulful entrance she makes on 'How Long." It's all about shining your light and how long it can take to shine back upon you. Her voice is sassy, sultry and flat out rocking on this on this ultra-tight opening track with super-incendiary guitar and keys by Matt Michealis who plays both with equal precision. And that's a big way to come into the picture, but make no mistake, every single track on this album is wildly different in structure and cover a wide variety of music.
AMAZON: https://www.amazon.com/Resolute-Matt-Michaelis/dp/B076ZW97TY
To prove it more than any other track, "Running From The Law" which gets into a couple of Led Zeppelin songs within the rest of what is an out and out monster of a song. This sounds more like a full band ensemble than most of these songs. I found it to be the overall most enjoyable track, with a few others coming in right behind it. "Bricks For Feet" follows with another upbeat female-vocal, this one added to by the extraordinary talents of Naomi Araujo. You'll love the addition of juice-harp and the big band vibe of this track. There's also heavy jazz attitude to the track.
"Move On Out Of Here" almost sounds out of place, but some of these tracks take a little warming up before you're sold, but all of them wind up selling you. Hat's off to all the drummers on this album, with this song taking a big lead in that sector. This might not be on the same groove plane as the rest on Resolute, but it's a massively infectious track with a huge dose of guitar from Matt Michaelis, and features Quinn Brown. "Something's Gotta Give" is a cool little country style song that also adds some spice to the album. This has a healthy amount of charm to it with the vocals of Shawni Westmorland.
Speaking of charm, there's much more of that to be felt on the pop track of the album, "I Got Ya" also featuring the sweet vocals of Shawni Westmoreland who brought the most vocal prowess to the album. You can enjoy it from the angle of each singer, drummer, and last-but not least the multi-talented Michaelis. "Weatherman" is another track worth mentioning because it's note for note as good as everything Matt Michaelis brought to the table with producer/singer Rich Bischoff. It's a darker and brooding hard rock track that cuts to the bone with everything good about this smoking hot album.
John Birch