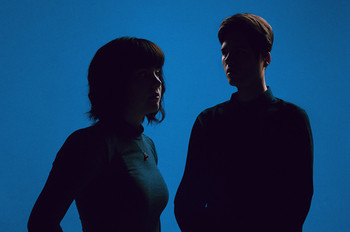 Following the release of their Uh Oh! EP and the conclusion of their second headlining tour last year, Canadian brother sister duo Tennyson share a new visual for "Cry Bird". The Dario Pena directed visual uses clever CGI to illustrate the playful world they've created. It's the second visual inspired by the song following an animated reproduction of Luke and Tess' dance moves put together through a collaboration of their fans.
Tess & Luke (AKA Tennyson) began making music when they were kids. By age twelve Luke discovered his formidable talent as a keyboardist and released two albums. During middle school they moonlighted playing Beatles covers while Luke refined his skill as a beat-maker. Today Luke uses everyday sounds to craft intricate electronic pop that is both catchy and daringly experimental, while Tess's masterful drumming holds the songs in from floating away.
Beyond their headlining tours, Tennyson have also performed at a number of festivals including Lollapalooza, Austin City Limits, Life Is Beautiful, Electric Forest, Red Bull's 30 Days in LA and more.
Photo Credit: Tonje Thilesen