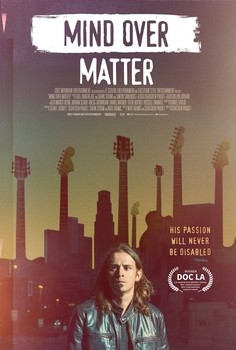 The award-winning feature documentary, "Mind Over Matter," with a New York premiere at the 10th Annual ReelAbilities Film Festival, March 10-14 during National Disability Awareness Month, tells the unbelievable story of Brandon Mendenhall who was born with cerebral palsy, a neurological condition that affects movement, coordination and balance. It's an incurable disorder, and one that could have greatly limited Mendenhall's life. But he had other plans. The film shows how Mendenhall worked strenuously to rehabilitate his hand, found mentorship with the members of the Grammy-award winning band Korn and eventually formed The Mendenhall Experiment, a 5-piece that has shared the stage with the likes of Suicide Silence, John 5, POD, Prong, Smile Empty Soul and Fear Factory and released their debut eponymous EP in May 2017 on Lucent/Universal.
A great supporter of Mendenhall's has been James "Munky" Shaffer, of the Grammy-Award winning metal group Korn who have sold 35-plus million records over the course of 25 years. Of Mendenhall, he says, "[He] is a big inspiration, not only for myself but for lots of people that not only want to get into music but that want to follow their dreams in anything."
"Mind Over Matter" is directed by Sébastien Paquet, a French filmmaker behind the award-winning short film "Wounded Warriors" and critically acclaimed short doc "Korn and the Prodigy Son," about the 12-year-old son of Metallica bassist Robert Trujillo. "Mind Over Matter" is produced by Sean E. Demott ("American Satan"), Nate Adams ("24 Hour War") and Shian Storm. Dillon Jordan ("As I AM: The Life and Times of DJ AM"), Marco Vicini, Jordan Schur, Gregg Journigan, Daniel Wagner ("Miles Ahead"), Steve Kofsky and Russell Emanuel serve as executive producers.