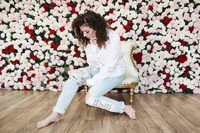 On My Way – the debut full-length album by Olivia Kellman, featuring the video/single "Come Back Down" is a fantastic release with veteran producer Jim Tullio at the helm, who has worked behind the boards magic for everyone from Aretha Franklin and Mavis Staples to Los Lonely Boys, The Blind Boys of Alabama and Richie Havens. In addition, she is mentored by Ron Alexenburg, previously SVP at Epic Records who worked with/signed music legends Meat Loaf, Boston and Michael Jackson. The album and single deliver maximum levels of songwriting and sonic superiority that makes every song a hit in its own-right.
The single "Come Back Down" has a video to help drive this great album to the masses, and it's well chosen as the lead single between the themes and subject matter on the album, according to the positive messages Olivia Kellman weaves. The video is a lyric video, but these are great promotional pieces with this one using an abstract approach. The words on the screen are cleverly placed into a notepad, with lots of different letter fonts to keep it artistically interesting. It comes recommended for that unusual approach, but to be fair everyone is approaching this in various-different ways to put words on the screen.
The single itself is no more accessible than any of the 13 tracks in all, but once again it is a well chosen front runner that sits toward the end of the album track list. It's a long way into the album which as already mentioned is full of other great tracks, kicking off with the title track "On My Way" and going on from there. It's a lovely ballad that showcases her beautiful melancholy voice. She somehow manages to have a hip slant to her singer-songwriting style, which goes to show her versatility. It's about being watched as she's grown, and it does the business in drawing you into the rest of the excellent debut album.
"Hypocrite" is the next track and it's over once you hear this. You immediately find out this is a hit song once the chorus comes in. Out of nowhere comes a sassy number that pulls no punches in any area. It shows a much more pop side of Olivia Kellman than the opening track indicates the album holding. This is an undeniably awesome number that is sure to be a single, but as indicated the album is full of such gems. "Rebel Child" follows with an equally good song with all the right bells and whistles. The drums kick and snap throughout this sweet track with nice piano textures and a killer vocal.
Other tracks like "Unbreakable" also provide the same level of songwriting and playing, as well as production. This is a track with a lot of bottom-heavy organ and acoustic guitar lines. But the most impressive aspect to it is the lyrics. Once you hear it you know this is a no-nonsense artist with a seriously good band. It's yet another awesome tune in the mix. "Eastern Skies" and "Paradise" are a couple more examples of the overall songwriting level showcased on this release, and it closes with the most sublime track "Voices Need Sound" with a foxtrot drum and more soothing piano on this must hear album.
Photo credit – Scott Velasquez
Larry Toering