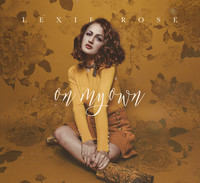 On My Own is a five song EP release from seventeen year old Lexie Rose and lays out the case that this might be one of the most talented newcomers to emerge in popular music over the last decade. Steep praise, but you realize she's worth every syllable of the acclaim when you take on this collection individually or as a whole. There's a remarkably mature point of view driving these tunes and she never sounds anything less than credible with the material despite the brevity of her years. This is a result of natural talents, obviously, but it's also the result of taking the time and making the commitment to hone her developing craft to such a sharp edge that the years fall away and she seems more remarkably fleshed out as an artist at seventeen years old than many singers and songwriters do at twenty five or thirty years old.
On My Own opens with "20 Weeks" and we are served immediate notice that she's a different sort of budding pop icon than we're used to. It begins life as something closer to a singer/songwriter acoustic tune before soon transitioning into a much more nuanced, considered composition with a number of creative touches. The drumming driving this song and the EP as a whole is quite different than what we're accustomed to expecting from this sort of material and "20 Weeks" highlights one of the EP's best percussion tracks. There's a stylistic shift coming with On My Own's second song, "Join Me", and the artier turn they take with the track is never so precious or obscure that listeners will feel distant from the material. The third number included with On Your Own, "Wrong", has an edgier songwriter point of view than we've heard thus far, but the accessibility isn't sacrificed for the sake of getting over a different mood. Her influences come through time after time again on the EP, but never at the expense of her own personality and she consistently finds a way to shape those sounds into something recognizably hers alone.
'Wrong' – https://www.vevo.com/watch/lexie-rose/wrong-(official-video)/QMGR31712706
"That's Why" confronts the issue of influence again as it's the closest you'll hear her sounding like Fiona Apple, but it has a smoother, less willfully unique musical voice and Rose's vocals, while very different from her contemporaries, still exerts enormous commercial appeal that Apple's simply do not share. Her real vocal showcase comes, naturally, with the EP's title song and she's supported by an equally thoughtful musical arrangement that, like many of the earlier numbers, experiences a number of interesting transitions and doesn't confine itself to a single line of attack. On My Own features Lexie Rose striking out for the future with a singular purpose and immense confidence in her abilities. It comes through on every song. She's chosen superb collaborators to help pull off the EP and they've responded with performances that show a complete understanding of what Rose needs. On My Own will make all the necessary waves and bring Rose the acclaim and attention she deserves.
http://www.lexierosemusic.com
https://www.instagram.com/lexieroses/
By – Pamela Bellmore