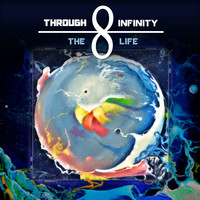 Through Infinity's "Shine" embarks on a wordless mystical journey, giving psychedelic rock a refreshing update. Everything simply works for Through Infinity engages in a rather fantastic display of group play with every single player given their own moment to truly show off their impressive chops. From the soaring style of the guitar to the glistening keyboards to the fury of the drums, all of it creates a gorgeous stream of consciousness sound. Akin to a vast tapestry, Through Infinity constantly incorporates a vivid display of color to come into the overall mix. By doing this Through Infinity ensures that not a single moment is wasted for the entire piece contains multitudes.
An ambient keyboard introduction opens up the angelic hues. Upon the groove settling the song everything else spins off from this singular focal point. Bass has a dexterity to it while it anchors the whole piece. Guitars and keyboards intermingle as they work in unison to soar into the sky. The guitar work in particular has a fine, otherworldly presence to it. Full of passion the fiery guitars add to the overall luxurious haze of the entire piece. Upon settling into a driving rhythm, the whole track seems to gain a tremendous amount of energy. Layer upon layer of sound is added with the utmost of care. For the final stretch of the piece they return to this climax, only this time they truly let loose.
http://www.throughinfinity.net/
Hard progressive and psychedelic rock merge together in a dazzling display on Through Infinity's powerful vision in "Shine".