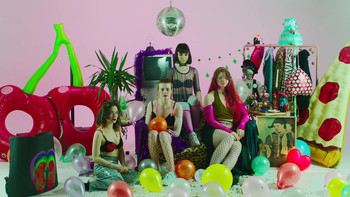 Liverpool band pink kink today share the video for debut single 'bubblebutt' which celebrates everyday 'feminist superheros'. Creatively lead by the group alongside director Katia Ganfield, it acts as the first proper online visual representation of the four piece.
The group also announce Spring and Summer dates which include 3 nights supporting Sleeper, a full UK headline tour and summer festivals including Truck and Blue Dot.
Originating from the Basque Country, Montana, Oslo and Bavaria, pink kink are antifascists with an empowering feminist message and glittery DIY ethos. They offer a fresh perspective on the contemporary reality that surrounds us – prompting waves of discussion and a shift in consciousness.
The hype surrounding pink kink's provocative live set has been brewing for some time, but it wasn't until five months ago that recorded music came in the form of disco-punk debut 'bubblebutt', a track loaded with satirical and incisive sentiments toward every-day sexism. Having delivered standout performances at a number of festivals and as main support for Pussy Riot's UK dates, pink kink are not just quickly becoming one of the most exciting bands in the country, but also one of the most vital.