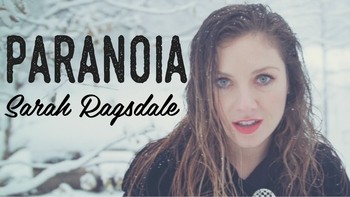 New Jersey's "piano woman" Sarah Ragsdale is back and stronger than ever with a new music video embracing the frigid chill and arctic landscape that's overtaken the Northeast of America. 2018 was a huge year for Ragsdale: her latest album Whimsical Romance received rave reviews from critics and listeners alike and her well crafted, fully realized triptych of music videos connected with new fans across the globe. After making her introduction to the music video world with "This Kiss", she followed up with the masterfully written, "Next Time". If that wasn't enough to bring you into the world of "Ragstime", the fun-filled music video for "Ferris Wheel" was sure to do the trick, as the visual content takes you to an evening at the fair with our "impossible not to root for" Garden State friend. Sarah Ragsdale's new single, "Paranoia" showcases her versatility and depth as an artist, offering us a more serious side of her compelling emotional landscape.
https://www.sarahragsdale.com/
The video takes place among the snowfall in Brooklyn, NY. A much slower, deeper sound than Ragsdale's usual timbre, "Paranoia" is a heart wrenching tale of love lost. With added orchestration, percussion, and soulful backing vocals, Sarah has the confidence to belt, "Tell me why you don't wanna marry me", a musical moment that sinks the gut of anyone with an emotional human heart. Directed by Douglas Ferguson, the video was able to capture the raw emotion of Ragsdale toiling through the snowy woods alone. Old-school film shots open the video, creating instant nostalgia and yearning for the past.