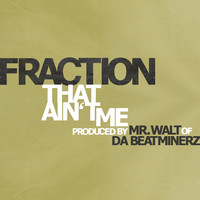 "That Ain't Me" seems an incredibly promising song hitting chartbusters from the album Thoughtwork by Fraction and Finsta.
With the increasing popularity of creative music, many talented artists have taken the opportunity to come under the limelight and acquire immediate attention. Fraction and Finsta is a combined project of immensely numerous award-winner singer and producer Fraction, also known as Frac and his rhythm partner Finsta. Creating and producing music for 25 long years, Fraction and Finsta has already marked their place in the world of creative music with their first solo album, 'Solidification'. His new release 'That Ain't Me' from the album Thoughtwork, is another bestseller that is being highly appreciated among the masses.
Born and brought up in Kitchener, Ontario, Canada, Fraction is passionate about music from quite an early age in the 1990's as part of the band Mind In Chaos. From there on till date, he has traveled a long way with many struggles and hiccups before he finally released his solo album, Solidification. Proficient in many genres like Hip Hop/ Rap, Soul/ R&B, House and Experimental, the artist generates a unique blend of melody which is a sheer inspiration for any music lover.
Over the years Fraction has released many solo tracks like Relevance in 2003, Necessary in 2007 and My Way in 2008 which have broken records on the chartbusters. Having worked with many renowned artists such as Prince Po (of Organized Konfusion), Planet Asia Saukrets, Blaq Poet, D.O. Finsta, Beatminerz, Fraction has gained immense knowledge in musical techniques and styles. He has also performed with Akon, Redman, Raekwon, Jim Jones and many more, his visual performances are equally rewarding like his audio.
About the new single 'That Ain't Me' is based on the classical foundation of hip hop genre which is amalgamated with the tunes of R&B. This unique musical melody is further enriched with a catchy rap section in Fraction's own vocalization which enhances the feel of the song. Based on the normal theme of city lifestyle and nature, the song has a mesmerizing effect with its repeated chorus section. The lyrics are simple but can be related to anyone listening to this playful track. Fraction has shown his competence over the microphone and sung the song in a smooth, clarified tone which intensifies the feel of the song and provokes the listener to hear it again and again.
The background score with definite pulsating riffs and upbeat musical section, this track is surely a must listen for everyone irrespective of the age. The track also showcases a video with Fraction solely depicting his innovative skills along with his intense performance while he stands rapping the words. Being a seasoned producer himself, Fraction has taken special efforts to preserve the quality of the recording. Even the visual effects are kept as natural as possible without overdoing the digital intricacies.
The newly released single 'That Ain't Me' by Fraction and Finsta, is crafted on the desire to produce an innovative melody. The track clearly shows how Fraction has engraved his passion and dedication into this single which is sure to attract a huge fan following and make the song another super-hit on the chartbuster.
—Josh Anderson