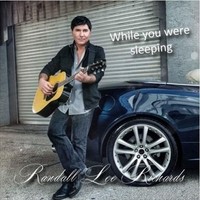 Randall Lee Richards goes for an updated, crystal clear country sound with the tender "While You Were Sleeping". Exploring the ups and downs of relationships, Randall Lee Richards proves to be a deft storyteller. Intricate arrangements adorn the entirety of the track, from the light electronics to the powerful percussion. Guitars have a lovely, soaring quality to them. Overall the entire song goes for an optimistic vibe, one that informs the entirety of the whole track. Possessing a summery hue to it the entire sound glistens with a tremendous lightness.
Elegant guitar introduces the song. Upon the vocals entering into the mix the piece has a hushed awe to it. Gradually additional elements come into view while the lyrics rest front and center. When everything comes into bloom, with great bursts of color, Randall Lee Richards represents the passion that a couple shares at their highest moments. Little vignettes of a life lived to the fullest allows the song to gain a poignancy of sorts. Throughout the piece little flourishes further add to the majestic aura of the work. Inclusion of the chorus gives the song that extra power, as the production feels so masterful. For the final stretch of the piece everything comes together into one stream of consciousness, as Randall Lee Richard sings straight from the heart.
http://www.randallleerichards.com/
With "While You Were Sleeping" Randall Lee Richards chooses a careful, intricate arrangement one that feels so inviting and full of spirit.
By Conor Wilson