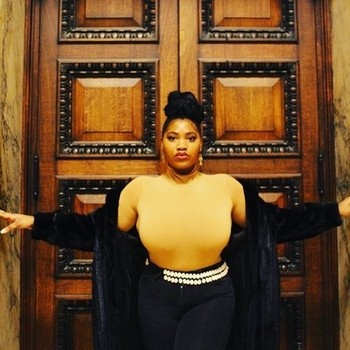 We are so excited to have a Boston native on here today. We have the wonderful Monahlyan and her new single 'Tell Me.' We are so excited to have her on here as we talk about her new single, growing up in Boston, streaming music, and so much more!
Stoli: Where are we talking from today and are you excited about the Patriots Super Bowl next Sunday?
I'm taking Boston, Mattapan to be exact! Yes, my family are big Pats fans. We all link up and celebrate. I love it because it's just another reason to be with the fam.
Stoli: Growing up how much was music played in your home and what did you listen to?
I grew up always surrounded by music, my older brothers would always love play 90s hip-hop. My sister would play a lot of 99s r&b, my mother would always play 70s funk. My dad on the hand was the most versatile, he put me on to the whole 80s and early 90s wave, no matter what genre. And lastly my grandfather was a huge jazz and blues fan. So music always presented itself to me some way…
Stoli: You could have been anything you wanted, what drew you to a career in music?
At a young I just started being drawn to sounds, and music was my way of learning. I started having visions of me Infront of crowds singing, and I would always act it out with no one watching. My mother was singer and father was a huge music head, I guess I absorb all that energy.
Stoli: How would you say that growing up in Boston effected your sound and how you see the music industry?
Growing up in Boston was a blessing, the music scene here is so easy to thrive and accelerate in. There's a lot of diversity and different crowds that are supportive and open minded towards what I do. I almost feel as though people are hungry for a new sound. Growing up here makes me want to create the best quality music because since there's very few, I have to go harder to represent.
Stoli: Looking out into 2018 what are two music goals you have an how will you achieve those?
Goal number one is to put out as much free music as I possibly can, I feel like some times people need a break from the radio and that's where my music can be appreciated. Second goal, to sign to a major record label.
Stoli: We love your new song 'Tell Me'. How long did that song take from writing to recording?
I wrote the song in about an hour, the next day I recorded it. I was so happy because I knew how strong the sounds were going to be. I didn't want to dwell or waist anytime.
Stoli: Is that song about a real life experience and if so please do tell?
Yes the feelings are real, I came across a real situation were I honestly didn't know what to do but to write about it. And I'm glad I did because the emotions I felt inside came out through the song. It was deep…
Stoli: If you were to a video for 'Tell Me' what would the visuals be to tell the story?
I did visuals for the song and it's real dramatic and romantic. I personally feel as though it reflects thug passion. But you must wait and see!
Stoli: I just joined Amazon Unlimited for $10/month so I can consume all the music I want. How does that effedct you as an independent artist?
It doesn't affect me at all, I know my current situation is not my final destination, with being said at I'm not asking for money. I have money and I'm certain more will come in my direction, I must crawl before I walk and I people to enjoy my music while it's free because the day will come when that switches.
Stoli: You are a very beautiful woman. How do you make sure that people do not try and exploit you?
I pray to god and he helps manifest what I want, so I put a lot of positivity in the air for it to come back. God is my ultimate protector and with him I have very little fear.
Stoli: What is the best mood and environment for you to create music?
Food is food, but environment it must be peaceful, and organic. Ideally I would like candles and a bottle of red wine.
Stoli: What is coming up for Monahlyan and where you @ online?
More singles and videos! @monahlyan on everything!