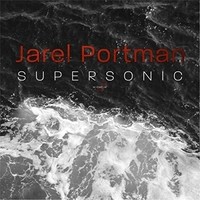 Jarel Portman's latest album, Supersonic, makes a massive hit on the chartbusters with its single released track, Runaway Blues.
Influenced by different cultures and sounds from his prolonged coastal lifestyle, Jarel Portman has firmly utilized his experience and artistic traits into his new self-released track, 'Runaway Blues' from his latest album, Supersonic. Jarel Portman is a renowned singer who has melodiously harmonized this memorable melody with an intriguing lyrical section and mesmerizing chorus.
Jarel proficiently blends the melodious notes of alternative rock and blues which makes the single a worthwhile listen to this progressive music genre. Inspired by the musical styles of late 90's, this musical composition has an edgy, upbeat and solid curve which glides the song smoothly through its rhythmic instrumental arrangement.
With 'Runaway Blues', Jarel establishes his unique and vivid style of musical imprints which is sure to inspire many creative musicians and music lovers. An engaging instrumental guitar section crafts the prelude of the song which is well-tuned with the rich vocal association by Jarel himself. The opening tune and the inspiring lyrical texture evoke an intense meaningful theme which makes the song fun and interesting to hear.
The words are kept simple and consistent with the dramatic theme Jarel wants to convey so passionately. With a strong hint of perpetual notes from blues, the song features the brilliance of single-stranded electric guitar chords and other instrumental association which further enhances its charm over its audience. As the song hovers over the verses the ambiance further intensifies, though the fun element is kept intact throughout.
Jarel portrays his talent and takes care of every single aspect through an expert keen eye. His own high textured vocal blends the impeccable beauties of human heart and nature to design a story with each sonic realm of this album. This single track gives a sense of emotional content to its vivid listeners much before the chorus binds the compelling story of the world revolving around them. As the song progresses towards the end, it lightens the heavy atmosphere of blues making the song approachable for any young musician.
Jarel Portman is a man of immense ability and competence in creative music and this song makes one of the best rock songs which bear a special touch of psychedelic quality into it. Bringing back the culture of subtle musical notes and merging them with the exotic musical styles of alternative blues is truly the workmanship of a crafted musician. Performed with intense passion and knowledge, the song showcases his imagination and ingenuity.
The single 'Runaway Blues' very conveniently strikes the chords of the early 90's style of music which incorporates Jarel's experience and knowledge in the rhythmic notes of various genres. With high-quality production and recording style, he manages to take this song through an uphill of emotions and feeling.
The lyrics are kept simple yet relatable which makes its audience engaged and interested throughout the song. With minimal digital work and an innovative theme setup, this song is sure to lure many creative music lovers with its quality artistry. Based on a rock background this song features some solid musical score that not only amplifies the feel of the song but also evokes a heart-warming ambiance which is sure to reach a massive audience.
http://www.facebook.com/JarelPortmanMusic
-James Andrews