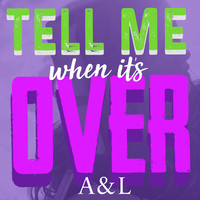 Wild and carefree, A&L tap into an infectious pop confection with the joyous "Tell Me When It's Over". Full of energy the song virtually bursts at the seams. Riffs jangle with a strong sense of determination. Youthful to its very core the piece rushes by in a glorious blur of sound. Quite colorful, A&L refuse to ever let up as they take on a celebratory spirit that leads them forward at a tremendous speed. Percussion helps to further emphasize an idealized sort of pop rock, one that represents the power that rock can possess. Best of all are the anthem-like lyrics, which invite the listener to sing along.
Buy: https://itunes.apple.com/us/album/tell-me-when-its-over-single/1335698312
Not a moment is wasted as the giddy introduction of the track feels like it is about to explode. It does, and it is a beautiful thing. Careening with a tremendous swagger, by the time the vocals enter into the mix they emphasize a strong sense of independence, even defiance. Upon the chorus entering the track truly begins. Guitar work reveals a real ear for melody, as they both soar into the sky and show off a real understanding of chops. Throughout the piece nothing ever slows down, but rather speeds up as the excitement of it all cannot be understated. About a third of the way through the song they go for a miniature breakdown before breaking out into a wild soaring solo.
http://www.facebook.com/AandLmusic
A&L creates the perfect party-starting anthem with the powerful "Tell Me When It's Over".
By Vince Barros