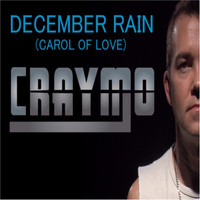 Craymo delves into an epic journey on the ornate "December Rain (Carol of Love)". Lyrics employ a poetic sensibility while a story comes into focus. A sense of the theatrical permeates the entirety of the track for everything further heightens the dramatic tension. Patience becomes an important virtue for the whole piece unfurls with a tremendous attention to detail. Intimate to its very core, the vocals rest front and center of everything. Volume deserves to be slowly but surely increased over the course of the song's exploration, as it occasionally bursts forth with a righteous outpouring of compassion.
Piano introduces the piece in a revenant fashion. From this powerful yet understated opening, things unfurl quite slowly. Vocals rise above it all as little elements come into focus. Guitar adds to the overall glistening spirit of the entire piece. A far-off martial drum adds to the pressure of piece, as Craymo chooses to let everything unfold in a naturalistic fashion. Over the course of the journey color comes into view for all gradually bursts in an outright overflowing of emotion. Drums come out of the far-off scope for a moment becoming nearly physical in the temperament. By the final stretch of the track Craymo chooses a great sweeping rush, nearly symphonic in its approach, until it all simply rises above in a triumphant fashion.
"December Rain (Carol of Love)" shows off Craymo's undeniable deft skill in sculpting a song that sings to the heart.