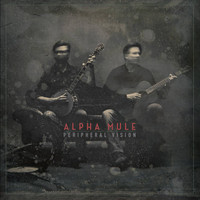 Alpha Mule represent the best of bluegrass with the warm inviting presence of "Peripheral Vision". Every song feels akin to a grand journey, an exploration of relationships and of the world at large. Never overdoing things, Alpha Mule makes sure to keep everything balanced with gorgeous slide guitar adding to its dreamy aura. By opting for such a style, the tracks drift through in a fantastic haze. Over the course of album Alpha Mule prove to be deft storytellers as their words create entire aural universes. Quite profound the insights provided by their poetic lyricism further adds to the mood of the album.
Audio: https://alphamule.bandcamp.com/album/peripheral-vision
After the ghostly opener of "Corpus Christi" Alpha Mule slide into a playful demeanor with "On the Moon". Mellow to its very core the song unfurls with such ease, as the vocals have a reassuring quality to them. With "The Distance" Alpha Mule goes for an ancient, psychedelic rock variation on their sound, incorporating a little bit of folk into the proceedings. Jaunty grooves give "Pavlov" a 50s sheen to it, as they go for something positively classic. Energy pours out of the grit and soul of "Mule in the Mine", easily the highlight of the album. Slowing things down considerably "Step Outside" chooses a pastoral path. Rather elegant "Music of our Hearts" chooses a distinctly southwest flavor, courtesy of the bone dry western twang. Perfectly bringing the album to a close is the meditative "Empire".
http://www.alphamulemusic.com/
With "Peripheral Vision" Alpha Mule embarks on a leisurely passage through a life lived to the absolute fullest.
By Lee Jones