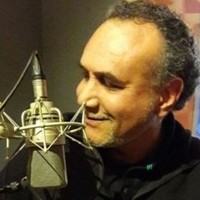 "Forget About Yesterday" comes from the album "Little Boat", by Ajay Mathur. An up and upcoming indie Americana go getter whose style is truly funky yet very appealing and upbeat. The way he crafts together the lyrics with the music upon "Forget About Yesterday", is just mind bending. The clear state of Americana is visible in terms of the quality of style and sound, but the vocalization is really fun to the ears.
Literally, when this track first plays off, you are entertained by little sound effects, that lead right into the main chorus of the song, with all the other instrumentals joining right in. It just builds upon itself, allowing for the vocal chords to be very mellow yet narrow minded. They are of the quality that sounds decent yet fine. Keeping in tune and check with everything pretty much. It ends up becoming a type of track that can be heard once if not twice at the most part.
URL: http://www.ajaymathur.com/
Re-listening to it more than that, may be a bit of a drown out of an idea, but the beat of the rhythm is very unforgettable at times, so it is hard to say at times. It's an uneven balance of entertainment, that is in both fun, yet very welcoming, there is just so many ways to depict what is happening, it is how the song plays out. You are receiving so much at once, type of sense really.
The way that Ajay Mathur's style is described at times, is Americana clearly, with some Led Zeppelin-esque guitars, exotic instruments, catchy songwriting, and lyrics to boot. Said lyrics really speaking to the heart. It's a genre bending style that really is unique and stands out. But when listening to this track a few times over, there isn't that much of a Led Zeppelin presents, but more of an indie folk rock style driven straight and true. Yes the instrumentals are rock based for sure, but that is about it, not much really of a Led Zeppelin vibe if at all.
In turn, Ajay Mathur  is an artist of sorts that captures the modern element of the Americana way. He in tune can strut his stuff, creating well developed music, that builds from the bottom upward. This track alone, really setting up what else is found upon that album "Little Boat". A lot of the same sort of material, but it is much more rounded, well flushed out, having lots of progression in tow.
Otherwise "Forget About Yesterday", is just really a typical type of track, that has some build up, but can be fun, highly entertaining, and offers something to those who want to take it all in. For the most part, here is an artist, whose promise of time and effort, have got a place to be and go with creativity. The music making process, being one that shall be cherished by Ajay Mathur, for his talents that are raw, true, yet still loads of fun. Which makes him one fun musician and entertainer too.
FACEBOOK: https://www.facebook.com/AjayMathurMusic
Sophia Torres