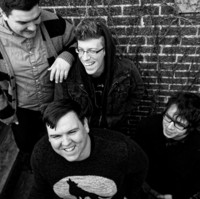 On "Main & Lincoln" stop.drop.rewind tap into the best of pop punk. With infectious riffs and an unstoppable energy, the song perfectly embodies the optimism of youth. Lyrically precise, a story unfolds of a shaggy dog quality. By letting the whole thing rush by in a gorgeous blur everything simply stuns, from the ringing of the guitars to the remarkable drums that virtually run their way the entire piece. The multi-faceted, multi-layered approach works wonders for stop.drop.rewind makes sure that everything becomes perfectly balanced, even as the song flirts with a complete and utter lack of control.
Right from the start, the lyrics begin on the idea of simply being completely out of it. From there they get into it quite quickly. The buildup happens so suddenly as a fantastic stream of colors are interwoven together into a vast tapestry of sound. Lyrics focuses upon a sort of raw, unhinged emotional state. With a sense of love and desire, the song feels infused with an unruly yearning desire. Guitar chops are proven over time and time again throughout the piece. About halfway through the piece they simply show off an incredible solo as the piece goes into a cyclical style. For the final stretch of the song stop.drop.rewind chooses to return back to the beginning, as if they embrace a hypnotic sort of approach.
https://www.stopdroprewind.com/
Chaotic and carefree, stop.drop.rewind's "Main & Lincoln" simply stuns, deserving to be blasted as loud as possible.